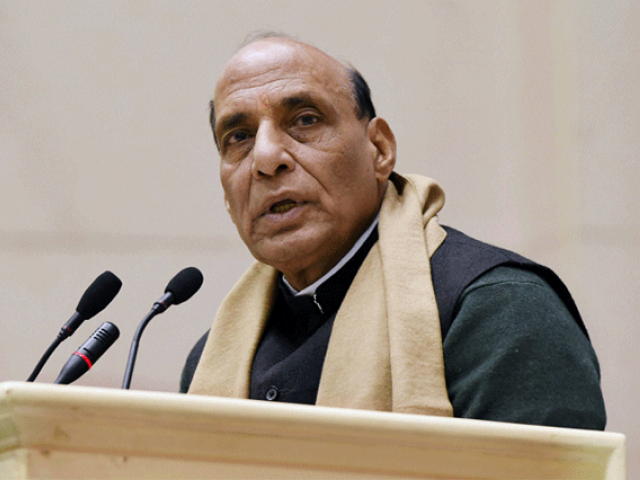 ---
An Indian cabinet minister has blamed Pakistan for most terrorist violence in his country, saying that Islamabad has to walk the talk to show it is sincere in eliminating terrorist groups.

"Most of the terrorist attacks in India emanate from Pakistan, and it will have to show some sincerity and take concrete steps to rein in various terror groups operating against India from its soil," Rajnath Singh, India's union home minister, told a news conference in Jaipur on Wednesday.

France, India call on Pakistan to prosecute terrorists

According to India Today, Singh also said that India would stand by 'its neighbour', if it was ready to take decisive steps in weeding out terrorism. "India will stand by Pakistan if it takes decisive action against terrorists and their organisations."




Singh said Pakistan's efforts towards ending terrorism and militant organisations in the country were vital to restoring peace and stability in the South Asian region and also key to improving bilateral relations with India

Reassuring people about 'India's capability' to fight the threat of terrorism, Singh said India's security agencies were trying their best to identify and detain people with links to terrorists.

Modi urges Pakistan to take 'immediate action' after base attack

On January 2, gunmen stormed an Indian airbase in Pathankot, in Indian Punjab, near the border with Pakistan and killed seven Indian troops. Later India alleged the attack was carried out by Jaish-e-Mohammad (JeM) militant group and handled from Pakistan.

Pakistan condemned the attack and launched a crackdown against the JeM while also forming a high level Special Investigation Team (SIT) to investigate the incident on the basis of Indian leads. The team is all set to visit India.

Indian officials claimed on Wednesday that they have arrested a Saudi Arabia-based alleged commander of a banned Pakistani militant group, Lashkar-e-Taiba (LeT), following his deportation.

New Delhi blames LeT for the 2008 terrorist attacks on landmarks in Mumbai in which 160-plus people were killed.

LeT commander Abdul Aziz, who hails from the Indian city of Hyderabad, had been detained in Saudi Arabia and was deported to India on Tuesday, International Business Times reported.

Pathankot attack: Indian mulls options on planned Pakistan talks

Upon his arrival at Lucknow airport, the Uttar Pradesh ATS arrested him. On Wednesday, he was transferred to the Telangana police on a transit remand and was being questioned. Aziz is named on a top most wanted list in India.

His deportation comes around four years after Indian LeT member Zabiuddin Ansari was similarly deported from Saudi Arabia.

Published in The Express Tribune, February 4th, 2016.