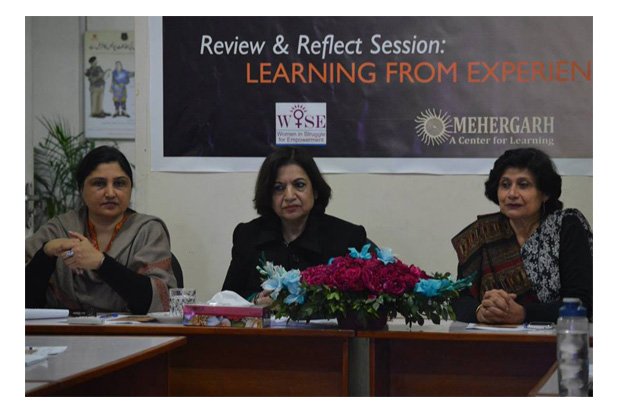 ---
LAHORE:



The provincial government should reactivate the Punjab Implementation Watch Committee constituted to facilitate and monitor the implementation of workplace harassment legislation, speakers at a meeting said on Friday.




They said the committee had been constituted following the announcement of the Women Empowerment Package by Chief Minister Shahbaz Sharif in 2012. The speakers said the committee had gone dormant after just two meetings. They said similar committees in Sindh and Khyber-Pakhtunkhwa (K-P) had been doing a much better job. They said that the Punjab Commission on Status of Women and the Women Development Department could play a pivotal role in this regard.

Mehergarh executive director Maliha Hussain urged PSCW Chairperson Fauzia Viqar to revitalise the committee. She said it was encouraging to see senior public functionaries, educationists and civil society activists congregate to exchange experiences regarding the implementation of the Protection against Harassment of Women at the Workplace Act 2010.

She said it was heartening to note that prominent organisations and institutions including Habib Bank Limited, Meezan Bank, Coca-Cola, the Punjab University, the Lahore University of Management Sciences (LUMS), the Lahore College for Women University (LCWU), the Pakistan Cricket Board, The Lahore Electric Supply Corporation (LESCO), the Human Rights Commission of Pakistan and Lok Sujag were taking great interest in making workplaces more women-friendly. Hussain said progressive managers cared about employees' welfare and made efforts to implement the legislation seriously.

Viqar of the PSCW spoke about the commission's performance. She also shed light on how the PSCW's official helpline was helping women overcome the challenges confronting them. Viqar said women who had been sexually abused also contacted the commission but were referred to the pertinent ombudsperson.

Women in Struggle for Empowerment (WISE) executive director Bushra Khaliq said over 300 organisations had strived to realise the objectives of the law even before its passage.

Shedding light on efforts on part of the Wise to facilitate the implementation of the legislation at the district-level, she said the organisation had trained nearly 155 volunteers across eight districts in the Punjab during a campaign against sexual harassment.

Provincial Ombudsperson for the Punjab Farkhanda Waseem Afzal revealed that the number of cases received at her office had been increasing over the years. She said this was a positive development. She also spoke about the legislation and the legal framework of its implementation.

Coca-Cola officials said the corporation had established eight standing inquiry committees across seven of its plants and its head office to guarantee that no employee was harassed. They said their workers' union had also been working in tandem with the management on cases. The officials said this was praiseworthy.

They said the corporation had also been felicitated on the National Working Women's Day by Mehergarh on December 22.


The meeting was organised by Mehargarh, the Wise and the War Against Rape (WAR).


Published in The Express Tribune, January 30th,  2016.