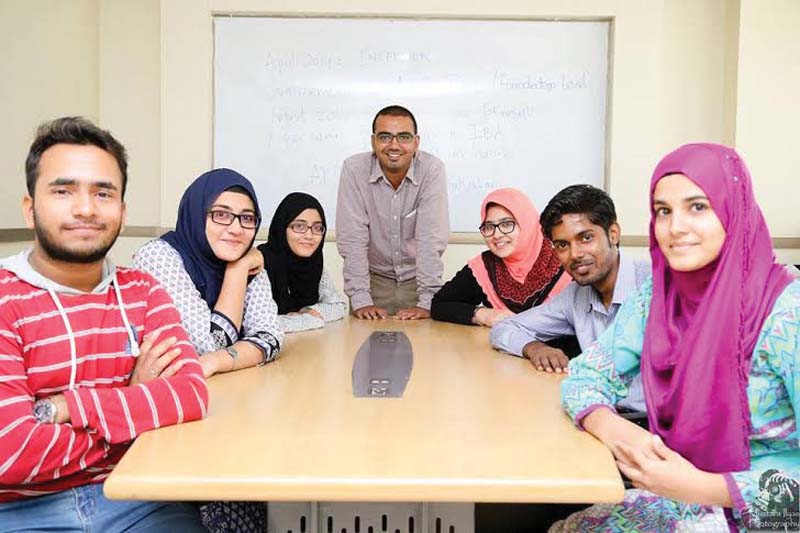 ---
KARACHI: Being a bridge between students and universities is the aim of the recently founded TCF Alumni Development Program (ADP). The ADP team helps students graduating from The Citizens Foundation (TCF) schools get enrolled at IBA and Habib University (HU).

"We wanted to find out where the students doing their matriculation from TCF schools go after graduating," explained Farheen Ghaffar, a founding member of the ADP.

In 2014, the team began their mission by obtaining lists from the database of TCF of students who passed their matriculation two years ago, in 2012. After getting the lists of more than 500 students from 52 TCF secondary schools all over Karachi who cleared matriculation with A-1 and A grades, the volunteers contacted each one to inform them that they will be helping them prepare for IBA and HU admission test.

"We convinced students to come to IBA and attend an open house to give them an idea what we are trying to do," explained Ghaffar, who herself is a final-year student at IBA.

After the open house, many former TCF students joined the programme and started taking free-of-charge classes at IBA to prepare for the entrance tests, taught by the TCF ambassador's team at IBA, a student-run initiative.

Last year, within a span of one month, they prepared 20 students but only two managed to get admission in IBA with 100 per cent scholarships. In 2015, a total of 9 students from TCF schools managed to get admission, with six students admitted in IBA and four in HU on full scholarships.

"We want all top tier universities to encourage their undergrad students to come forward and help the less privileged students secure admission in their university," said Ghaffar.

The programme has zero funding, as the team consists entirely of volunteers. "We take at least 20 university student volunteers every year who are willing to work with and teach the students," she explained. The only expense is of books for the test preparations, which the team and volunteers cover themselves.

The students do not have to pay the test fee, as team patron and IBA director, Dr Ishrat Husain, has waived the fee for students appearing through this programme.

First female university student

Studying at a TCF school in Baldia Town, 20-year-old Mehreen Khan never dreamt of going to university. The ADP changed her life and allowed her to dream of things she never thought possible. "It was my last paper of second-year commerce when I received Farheen [Ghaffar]'s message about their programme and she asked me to provide her my first-year marks," recalled Khan.

In 2014, she completed her Intermediate, never thinking that she would be studying social development policy from HU on scholarship just one short year later.

Initially Khan applied to many other universities but could not gain admission. With the ADP's help, she was not only admitted to HU, but also got to study the subject she wanted.

"I am the first student from my school and the first female in my family who has stepped foot in a university," she said happily.

From the slums to IBA

Meanwhile, a student of the TCF school in Quaidabad, Asad Sajid, has secured admission in IBA's business administration programme this year after getting help from the ADP.

Sajid lives in the slum area of Gidar Colony near Old Muzzafarabad Colony. The eldest of four brothers, Sajid always wanted to become an engineer but, due to a lack of resources and good college education, he secured 73 per cent, which was not enough to get admission in NED University.

"One day I received a message from the team and they invited me to come for the open house. I came and they delivered what they had promised me," he said, with the smiling face of someone who has secured a 100 per cent scholarship.
COMMENTS (10)
Comments are moderated and generally will be posted if they are on-topic and not abusive.
For more information, please see our Comments FAQ