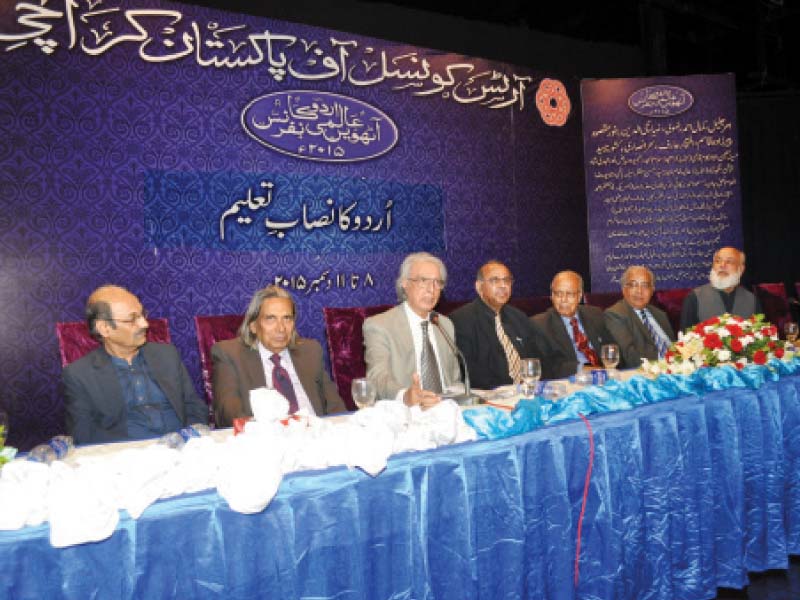 ---
KARACHI: The four-day Eighth International Urdu Conference kicked off at the Karachi Arts Council on Tuesday, with its first session devoted to 'Nifaze Urdu, Imkanaat or Masail [Implementation of Urdu, possibilities and problems]'.

The Arts Council auditorium was packed to capacity as literati from Pakistan and abroad gathered at the inaugural session. Conducting the programme, Dr Huma Mir introduced the presidium, which included Zehra Nigah as the keynote speaker, to the audience. The conference is being held annually since 2008. This year's programme will continue for four days

Among foreign delegates, Shamim Hanfi from India was the first to address the audience. But he said that he can not relate to the subject of the first session. "I am not suited to speak on it," he said. "It is the right of others, not mine."

Promoting Urdu: Urdu literati off to Istanbul University

Instead, he expressed his thoughts on the language that actually developed in the piece of land that he belonged to. He said that much like Hindi, Urdu had an undefined territory and relating it to the Muslims of India alone will not be fair.

Discussing the past in which Urdu flourished, he asked others to see what progress the language made in a century.

Critic and poet Professor Sehar Ansari said that there are at least 56 languages spoken across the country, 16 of which have scripts and rules made. He stressed the need of working on the rest of the languages.

He said that though Urdu was the constitutionally notified national language of the country in 1973, but it was never implemented owing to some undefined reasons. Urdu as a national language did not mean that the other languages had no significance, he added. He asserted that there should be a translation board on the provincial level across the country.

Talking the talk: Aamer Hussein shares views on significance of Urdu language

The first session was followed by two others: 'Urdu Ka Nisab-e-Taleem [Urdu curriculum]' presided over by the vice-chancellor of Ziauddin University, Pirzada Qasim Raza Siddiqui. Its participants included Syed Mazhar Jamil,Prof Ansari, Dr Anwar Ahmed, Prof Anwar Ahmed Zai, Dr Jafar Ahmed, Prof Haroon Rasheed and Anis Zaidi. The third session, 'Classical Adab Kay Muntakhib Hissay [Excerpts from classical literature], comprised recitation by Zia Mohyeddin and a discussion by Hanfi and Muhammad Ahmad Shah.

Published in The Express Tribune, December 9th, 2015.