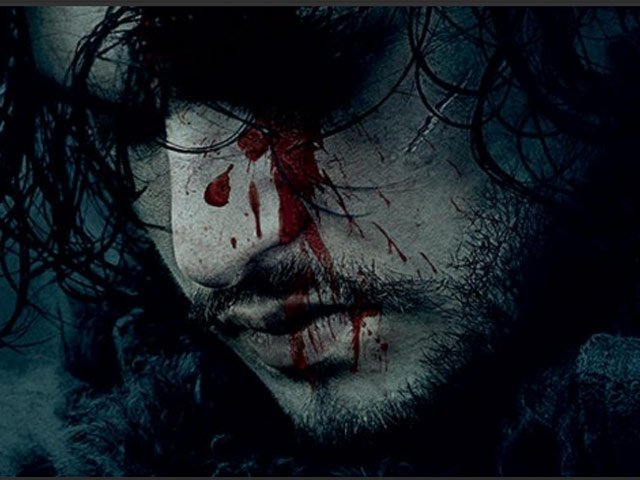 ---
Is he dead? Is he alive? Is he coming back? HBO's medieval saga Game of Thrones is known for serving up graphic deaths of its lead characters, but when fan-favourite Jon Snow was killed off, avid followers speculated every theory and sighting that would bring back their heroic soldier.

It looks like they prevailed.

Actor who plays Arya Stark clears doubts about Jon Snow's death

GoT tweeted a teaser poster on Monday with a partial shot of Jon Snow's rugged, bloodstained face and trademark hair, with the simple caption: 'APRIL' -- Season 6 release:

APRIL. #GoTSeason6 #GameOfThrones pic.twitter.com/DSK2xZi9i9

— Game of Thrones (@GameOfThrones) November 23, 2015


It was then placed on Billboards in various cities across the US Monday morning:

Jon Snow Billboards are up. Game of Thrones is Coming... #April2016 😬 pic.twitter.com/3gq96t8FPW

— Daenerys Targaryen (@Daenerys) November 23, 2015
GUYS. It's a really bad picture but OMG JON SNOW BILLBOARD in Hollywood! Is he or isn't he?! #GameofThrones pic.twitter.com/Cx4Zc0AWnz

— Lauren (@LittleLauren) November 23, 2015

https://twitter.com/JimmyMecks/status/668809683046535168

It is the first time the TV series has officially acknowledged the future of Kit Harington's character, and the poster sent fans on social media into overdrive. The Game of Thrones tweet was shared more than 35,000 times in three hours on Monday and "Jon Snow" became the top Twitter trend.

Harrington hints on return of Jon Snow

As soon as the promo was unveiled Twitter broke out with excited fans:

Everyone after seeing Jon Snow on the #GoTSeason6 teaser poster.... pic.twitter.com/qtmROMOuWv

— Jon Snow (@LordSnow) November 23, 2015
"You Know Nothing, Jon Snow" woot woot!! Oooh he will!!!!!!! Woohoo!! #GOT #GameOfThrones

— Jerald Napoles (@IamJNapoles) November 24, 2015
After seeing the new poster.. #GameOfThrones pic.twitter.com/6HpRhdmd1D

— Five More Minutes (@SnoringSenorita) November 24, 2015

https://twitter.com/VictoriaSmithL/status/668851128520585218
https://twitter.com/TheArabHova/status/668823634232807424
https://twitter.com/pamela_pam123/status/668822474755194880

.@GameOfThrones has me like...#GOTSeason6 is coming in April! pic.twitter.com/RCH4zDMZeF

— Kait☠️Calabrò (@KaitCalabro) November 23, 2015
Me when I saw the first poster for #GameOfThrones's season 6. #GoTSeason6 pic.twitter.com/sYSHfvmst3

— Denizcan S. (@MrFilmkritik) November 23, 2015
When you see Jon Snow on the #GoTSeason6 poster... pic.twitter.com/vfRoM0LLs5

— Tyrion Lannister (@GoT_Tyrion) November 23, 2015
Jon Snow being on the #GoTSeason6 posters got me like: pic.twitter.com/XvPqnAEiBf

— maz (@madisonpiatek) November 23, 2015


Emmy-winning GoT, based on George RR Martin's A Song of Ice and Fire books, is a sweeping fantasy epic of the battle across seven kingdoms for the Iron Throne. It is HBO's most-watched series, averaging 20 million viewers per episode this year.

Fan speculation on Jon Snow's fate has ranged from sightings of Harington on set in Ireland to the actor's decision not to cut his shoulder-length brown locks, which have become a trademark of his character.

Little slips from fellow cast members in interviews have also fueled the fire, but HBO and the show's creators have enjoyed toying with fans, always avoiding the question and keeping Harington out of fan-events.

Returning to Game of Thrones: Kit Harington spotted in Belfast

Jon Snow, the illegitimate son of Ned Stark (who was beheaded in season one) and Commander of the Night's Watch, made it through five seasons of Game of Thrones before being betrayed by his subjects and stabbed to a seeming death in the penultimate episode that aired in June.

Whether Jon Snow is actually alive or dead is still not known in a series that is woven through with dark magic, sorcery and the mysterious "White Walkers," an army of the undead.

His tragic demise was lamented, but readers of Martin's books immediately suggested the character could be returning, albeit through otherworldly means.
COMMENTS
Comments are moderated and generally will be posted if they are on-topic and not abusive.
For more information, please see our Comments FAQ