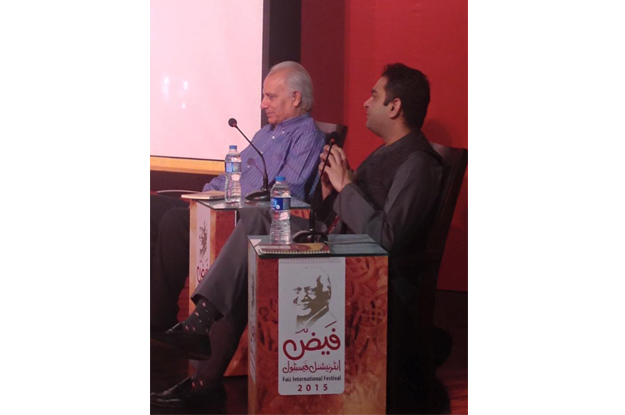 ---
LAHORE:



The audience at the session Like Father, like Son on the third day of the Faiz International Festival was mesmerised by the conversation between father-son duo Irfan Khoosat, known for some unforgettable comic roles, and Sarmad Khoosat, director of the biopic Manto.




The session was moderated by Navid Shahzad.

Irfan Khoosat spoke about his early life and struggles. He said life became hard after the demise of his father, Sultan Khoosat.

He said his lack of formal education aggravated the situation. "I am not saying this to gain sympathy…this is how things were at the time", he said. Irfan said his only ambition was to learn the art of speaking.

"Naturally, the best place to learn that was Radio Pakistan," he said.

Sarmad Khoosat shared some childhood memories. He spoke about his confusion about his father's work.

"When I was young, I thought Abba was doing something wrong," he said.

Sarmad said he saw his father rarely at home, and often saw him dressed in costumes from his film shoots.

"It was overwhelming for a young mind," he said.

Sarmad also spoke of his time at Aitchison College.

"People would do a double-take when I told them my father was an actor," he said.

He said the feeling of alienation and confusion disappeared when he started acting.

"That's when I began to understand my father. That's when we became friends," he said.

Irfan shared some stories from when he was directed by his son.

As the veteran comedian narrated the incidents in Punjabi, the hall echoed with laughter. Blushing, the son replied that his father was exaggerating.

Shahzad had some comments on the movie Manto.

"People are no longer scandalised by Manto. Depicting him in cinema was a courageous thing," she said.

She critiqued some of the casting choices and the sound used for cinematic experience. However, she was interrupted by members of the audience who that they wanted requested to hear more from the guests.

Responding to some of Shahzad's critique, Sarmad said he had chosen to take on the role because of his connection with Manto's work and at the insistence of the producers.

"I could not find anyone who could do the role. In the end I grew selfish and decided to play it myself," he said.

Published in The Express Tribune, November 23rd,  2015.
COMMENTS
Comments are moderated and generally will be posted if they are on-topic and not abusive.
For more information, please see our Comments FAQ