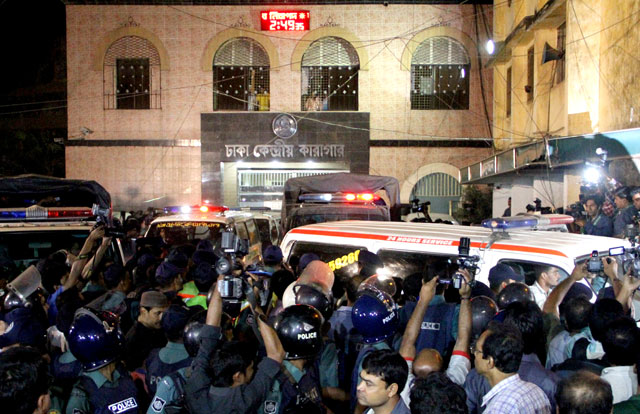 ---
DHAKA: Bangladesh hanged two top opposition leaders Sunday for war crimes committed during the conflict with Pakistan in 1971 and boosted security across the country over fears the executions could spark fresh unrest.

Thousands of extra police and border guards were deployed in Dhaka and other major cities and towns on the eve of a general strike called to protest against the executions.

Supporters of the ruling Awami League meanwhile greeted the executions of Ali Ahsan Mohammad Mujahid and Salahuddin Quader Chowdhury by holding street parties, distributing sweets to children.

Bangladesh hangs opposition leaders for war crimes

Bangladesh has been roiled by violence for much of the last three years since a domestic tribunal began delivering its verdicts on opposition figures accused of orchestrating massacres during the 1971 war.

A total of 18 people have been convicted but only two had been sent to the gallows before Mujahid and Chowdhury were hanged at Dhaka's Central Prison shortly before 1:00am.

While the other three were members of Jamaat-e-Islami, Chowdhury was a senior figure in the main opposition Bangladesh Nationalist Party (BNP).

Jamaat, banned from contesting the 2014 general election, said the executions were part of a strategy "aimed at eliminating" its leadership.

The BNP also accused Prime Minister Sheikh Hasina of presiding over a politically-motivated killing which was carried only hours after its leader Khaleda Zia returned from a lengthy stay in London.

Some of the tightest security measures were in place in the hometowns of the two executed men whose funerals were held on Sunday morning.

Bangladesh opposition leaders on death row seek pardon

"We've stepped up security across the country to prevent any violence, including on the roads along which the bodies were taken," police spokesperson Munstashirul Islam told AFP.

Hundreds of police were deployed outside the central city of Faridpur where Mujahid was buried soon after day break, according to security officials.

Reinforcements were also sent to Chowdhury's hometown of Raojan in the southeast.

The 67-year-old Mujahid, Jamaat's official number two, was sentenced for war crimes such as the killing of top intellectuals.

Chowdhury, 66, was convicted for atrocities including genocide during the 1971 war when the then East Pakistan split from Islamabad. He served six terms as a member of parliament and was one of Zia's top aides.

Although international rights groups have criticised the trials as unfair, the government says they are vital for Bangladesh to confront its traumatic birth.

Despite having long been accused of leading massacres of pro-independence figures and minorities, both Chowdhury and Mujahid held cabinet posts a little over a decade ago when the BNP was in power.

Bangladesh court upholds opposition leaders' death sentences

The front-page of Sunday's Daily Star said the pair were "the pitiless, feared faces of genocide" who had "become ministers of the very country they had stabbed and made to bleed".

Relatives of victims of the war celebrated the executions."I've waited for this day for a long 44 years," said Shawan Mahmud, daughter of top musician Altaf Mahmud, who was killed by the notorious Al Badr militia that Mujahid was convicted of leading during the war.

"We had to endure years of pains and shame as these war criminals would taunt us. Now justice has finally been delivered," she told AFP.

But both men's families said they maintained their innocence to the end, denying they sought clemency in what would have amounted to an admission of guilt.

"He said they are killing him because they could not beat him in elections," Chowdhury's son Humam Qauder Chowdhury told AFP after a final meeting with his father.

Both the BNP and Jamaat claim Hasina is trying to neuter her opponents, having won re-election two years ago in a contest boycotted by rivals.

Thousands of BNP supporters have been arrested in recent months, further hampering efforts to regain a footing in upcoming municipal elections.

Authorities say those arrested have either carried out or plotted firebombings and other attacks.

The political violence has exacerbated tensions in the mainly Muslim country which is also reeling from a string of killings of secular bloggers and the recent murders of two foreigners.

Hasina, whose father Sheikh Mujibur Rahman was the leader of the independence movement, says three million people were killed in the nine-month conflict.

Independent researchers say the toll was much lower.
COMMENTS (5)
Comments are moderated and generally will be posted if they are on-topic and not abusive.
For more information, please see our Comments FAQ