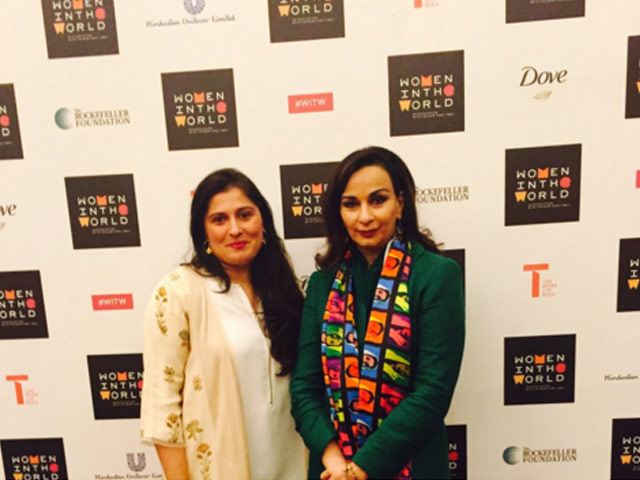 ---
Some of the world's most powerful and influential women gathered under one roof on Friday for the Women in the World summit held in India. Among the attendees were Senator Sherry Rehman and Sharmeen Obaid-Chinoy proudly representing Pakistan.
https://twitter.com/sharmeenochinoy/status/667700283691003905

Nobody has the right to call our country intolerant: Anupam Kher

Senator Sherry Rehman was invited as a speaker at the event:

Excited to be speaking @WomenintheWorld this evening with the inimitable @TinaBrownLM. Summit full of exciting women! #WITW

— SenatorSherryRehman (@sherryrehman) November 20, 2015


"I want to live my life the way I want to die: serving my country with my comfortable pumps on," she said gleefully as she sat across from WITW founder Tina Brown. In her interview, she spoke about Pakistan and the privileges one is born with.

"In my case it is the privilege of education" she said. "When it comes to South Asia, privilege makes it essential that whatever opportunities one receives and whatever choices are made, they be used for the vulnerable and those who don't know about rights."

She stressed that a "little bit of power" could change lives and help people, which was evident from the "incredible women" who shared their experiences at the summit.

"These are people who understand the power of chip-­chip­-chipping away at the obstacles in their path," she said. "Chipping away," she added, "could be an interesting turn of phrase to describe the incredible work the Jinnah Institute is doing to work on the tumultuous Pakistan-India relationship."
https://twitter.com/sharmeenochinoy/status/667707976338137088

The Pakistani senator described South Asia as the Jurassic Park of the world: "What age are we living in?"

"We can't change our geography. We aren't big islands like the UK or USA, separated by an ocean. We are connected not just by stories, but also our geography, so work with what we have. We are neighbors, we can't instantly love thy neighbor, but [can] dial down the hate," she remarked.

We don't deserve Shah Rukh Khan, says renowned Indian journalist

"Not just Pakistan. I want to tell this empowered audience that it is a dangerous world, the world my daughter grows up in is very different from the one I grew up in, but our challenges are connected so let's focus on finding common grounds. Global leadership has to be clear that we have to identify a common enemy -- we, you may have done that but the world has to acknowledge the freight train heading our way."

Sharmeen Obaid was invited as a moderator to a session featuring an Israeli mother, Robi Damelin, and a Palestinian mother, Bushra Awad, working together to find peace:

https://twitter.com/sharmeenochinoy/status/667828402905178112

The Academy Award winner and the Pakistani Senator also had a fan moment with Madhuri Dixit at the summit:
https://twitter.com/sharmeenochinoy/status/667675531307974656

Proud to be wearing my Benazir scarf as the only Pakistani solo on stage @WomenintheWorld summit yes that's Madhuri pic.twitter.com/xpvbMwMWnH

— SenatorSherryRehman (@sherryrehman) November 21, 2015


https://twitter.com/chintan_connect/status/667617161993584642
https://twitter.com/NasimZehra/status/667970985459625984

Other notable women present at the event were Indian journalist Barkha Dutt, Bollywood actresses Soha Ali Khan and Madhuri Dixit, and Hollywood actress Cate Blanchett, to name a few.

Fire revisited at women in the world summit. Delighted to catch up with @IamDeepaMehta and @nanditadas pic.twitter.com/jchxjGtza6

— Azmi Shabana (@AzmiShabana) November 20, 2015


Film-makers protest intolerance in India

Artistes and writers across the border have been raising the issue of growing intolerance in India, which surfaced after a Muslim man in Dadri was killed over rumours of having consumed beef. Many of these writers and artistes have returned their state awards as a show of dissent.

This mass returning of awards has also grabbed international interest. Prime Minister Narendra Modi, who was blamed for being "silent" on the issue, responded with "India is not intolerant" when a question was put to him by a foreign journalist during his recent visit to Britain.