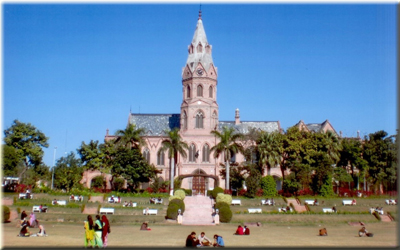 ---
LAHORE: Foreign instructors who had left the Government College University (GCU) Lahore's Abdus Salam School of Mathematical Sciences (GCU-ASSMS) a year ago in the wake of security concerns have rejoined the school.

European Mathematical Society (EMS) Committee for Developing Countries president Michel Waldschmidt arrived at the school on Thursday in connection with the development. He would help review and complement efforts to revive academic and research activities at the ASSMS. The school had been previously conferred the status of an emerging regional centre of excellence by the society. Waldschmidt, a renowned French mathematician, met Vice Chancellor Hassan Amir Shah and Director General Shahid Saeed Siddiqi following his arrival and reviewed the school's future prospects with them.

He said he had personally witnessed the excellence of ASSMS. Waldschmidt said he had taught there for several months before leaving it. "I believe Pakistani students are extremely bright, intelligent and hardworking. They can achieve a lot, especially in the field of maths," he said. Waldschmidt is also set to deliver two special lectures at the school.

In a press release issued on Thursday, VC Shah praised the Higher Education Commission (HEC) and former ASSMS director general AD Raza Chaudhry for striving to revive the school's fortunes. He said he had inherited an ASSMS bereft of faculty two months ago. Shah said over 12 foreign faculty members from Bulgaria, Germany, Romania, France and Croatia had joined the school. VC Shah said more were expected to follow suit.

He said the school was conspicuous as it had produced 125 PhDs in maths over eight years. Shah said all other Pakistani varsities put together had not been able to accomplish this feat. He said all PhDs from the ASSMS had been working at top-tier research institutes and varsities in Pakistan and abroad.

Published in The Express Tribune, November 20th, 2015.