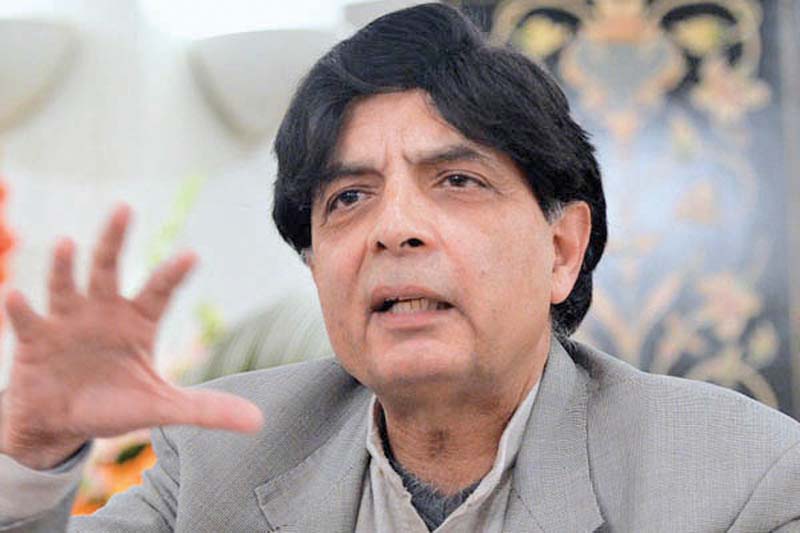 ---
ISLAMABAD:



Pakistan's security czar has advocated a 'cricket boycott' against India weeks after ultranationalist Hindu group Shiv Sena disrupted talks between the cricket bosses of the two countries in a Mumbai neighbourhood. Moreover, Interior Minister Chaudhry Nisar Ali Khan has said that Islamabad should not pursue talks with New Delhi until it 'behaves responsibly'.




Dozens of Senaiks had forced their way into the headquarters of the Board of Control for Cricket in India on October 18 and sabotaged scheduled talks between BCCI President Shashank Manohar and Pakistan Cricket Board (PCB) Chairman Shahryar Khan on a bilateral cricket series between the two countries.

Pakistan to urge UN to list Shiv Sena among world's terrorist groups

Earlier that month, the far-right Hindu group had doused Indian activist Sudheendra Kulkarni with black ink after he refused to cancel the book launch of former Pakistani foreign minister Khurshid Mahmud Kasuri, also in Mumbai.

Interior Minister Chaudhry Nisar said on Monday that Pakistan would push the United Nations to take note of Shiv Sena's activities and declare it a global terrorist organisation. Shiv Sena is an ally of Prime Minister Narendra Modi's Bharatiya Janata Party in Maharashtra state. Modi has invited scathing criticism from Indian liberals and intellectuals for his silence on Shiv Sena's bigoted communal campaign.

"We want [an international] ban on Shiv Sena. They [Senaiks] smear black ink on other's faces, but their own hearts are black. Pakistan should boycott [India] not only at cricket but at diplomatic levels," Nisar told a group of journalists at an informal gathering.

Shiv Sena storms BCCI HQ to protest Indo-Pak cricket meeting

"Islamabad should not engage in talks with India until New Delhi behaves responsibly," he added. "We will not play cricket in India. I will personally oppose it. I will take up this issue in the upcoming meeting of the federal cabinet. And the prime minister will take the final decision."

Dozens of Indian intellectuals, litterateurs, artistes and war veterans have renounced their national awards in protest against growing communalisation in India under Modi's watch. They have warned that ultranationalist groups like Shiv Sena were turning the secular India into a Hindu majoritarian fundamentalist state.

"All forms of terrorism are breeding in India, but it goes under the carpet there," Nisar told journalists on Monday.

Pakistan cancels singer Adnan Sami's passport

Arrest of Altaf Khanani

The interior minister said that Pakistan would write to the Federal Bureau of Investigation (FBI) to seek details of the arrest of money changer Altaf Khanani in the United States. He has already directed the Federal Investigation Agency (FIA) to reopen cases against Khanani, if any.

The FBI revealed last week that it has arrested Khanani blaming his 'Khanani Money Laundering Organisation' for laundering illicit funds for organised crime groups, drug trafficking organisations and designated terrorist groups.

Adnan Sami's passport

Pakistan's security czar further said that the government has cancelled the passport of Adnan Sami Khan, the Pakistani singer who has renounced his nationality to take up residence in India. "We will not issue an NoC to him," a basic requirement for Sami to acquire citizenship of any other country.  Pakistan already refused to issue a citizenship renunciation certificate to Sami who had said, "I do not need a green passport as I've found a new home in India."

Pakistan is not Myanmar, Nisar warns India

Agreements with EU

Last week the interior minister had temporarily suspended readmission agreements with Western countries, except the UK, claiming that most countries have been deporting illegal Pakistani citizens 'without verification'. Nisar said EU officials would visit Pakistan next week to take up the issue. "Pakistan wants respect for its nationals and wants all European countries to treat Pakistani expats on an equal basis."

Published in The Express Tribune, November 17th, 2015.
COMMENTS (8)
Comments are moderated and generally will be posted if they are on-topic and not abusive.
For more information, please see our Comments FAQ