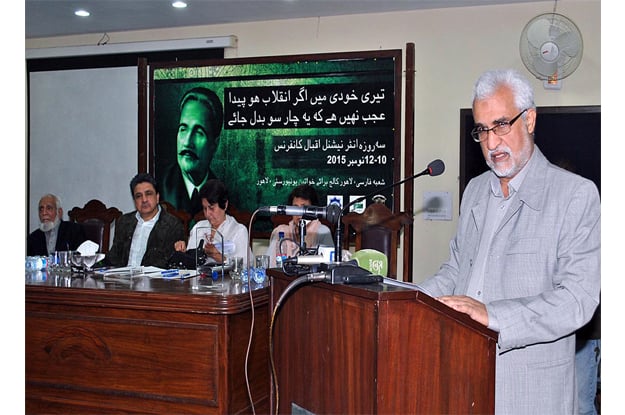 ---
LAHORE: Dr Muhammad Iqbal's philosophy has always been about exploring oneself, said participants of a three-day international conference on the life and works of national poet, Allama Muhammad Iqbal, on Wednesday.

The conference had been jointly organised by the Lahore College for Women University (LCWU), the Iran Cultural Centre and Dabistan-i-Iqbal.

Iran Cultural Centre Lahore DG Akbar Barkhurdari said that Iqbal's first published work, Asrar-i-Khudi (Secrets of the self), was entirely about self-realisation, and thereby achieving predominance of mind over matter.

He said that through poetry, the philosopher made the people of the East realise the richness of their cultures and the grandeur of their civilisations.

"Iqbal's message: To know your country, know yourselves, reflects the importance he gave to the country and its association with one's inner self," he said."In one of his poems, Iqbal says that one who does not believe in humanism is a non-believer, but the one who doubts himself is even worse. To penetrate the secret of creation is nothing other than striving to know oneself," Dabistan-i-Iqbal chairman Iqbal Salahuddin said.

Justice (r) Nasira Javed said that Iqbal's passion for independence was deeply rooted. "It compelled him towards lyrical creations that upheld heroism and bravery and condemned weakness and indifference," she said.

LCWU Acting Vice Chancellor Uzma Qureshi said that Iqbal's message was now being studied all over the world. "His teachings of social justice and welfare of human beings without any discrimination are accepted by all," she said. She said that Iqbal's revolutionary zeal, his enthusiasm and his humanism helped people see beyond the mundane.

Published in The Express Tribune, November 12th, 2015.