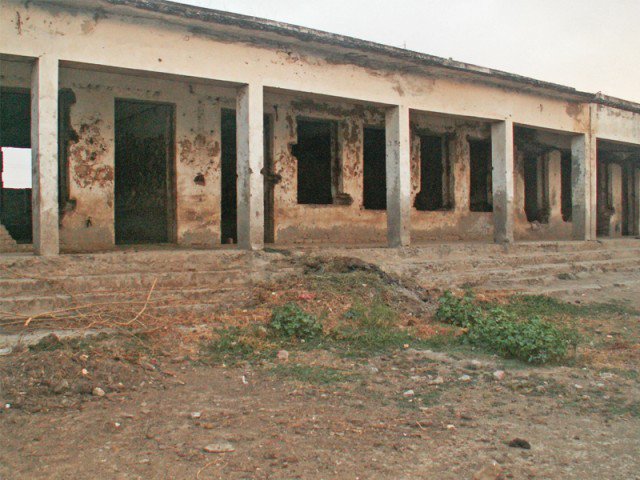 ---
PESHAWAR: At least 273 government schools are still non-functional in K-P, stated the Annual School Census Report 2014-2015 issued by the education department this month.

The statistics have been revealed at a time when the department has reportedly doled out large sums of money to promote literacy. However, the silver lining is that the number of non-functional schools is comparatively lesser than what was recorded in 2013-14.

"There have been countless improvements in government schools as compared to previous years," K-P Elementary and Secondary Education Additional Secretary Qaiser Alam told The Express Tribune. "Last year, 40 new schools were constructed while this year buildings for 82 new schools will be completed."

According to Alam, the recent earthquake has placed an additional burden on the department as it now has to rebuild schools destroyed or damaged by the calamity. "We are collecting data of these schools and are planning to reconstruct them as soon as possible," he added.

Open and close

As per the report, there are 28,178 government schools across the province out of which 27,823 are functional. However, the data reveals that most of these are primary schools and not many institutes exist for students to enrol for further studies.

"There are 22,717 primary and 5,106 secondary schools which are functional," read a copy of the report available with The Express Tribune. "Of the institutes which are non-functional, only 11 are secondary schools while the rest are primary schools."

Lacking facilities

"There are 1,223 primary schools in urban areas and 21,494 in rural areas which are still operational," stated the document.

However, it added basic facilities at these schools are still a luxury that students and teachers continue to long for. The report suggests out of the government schools which are functional, 16% are without boundary walls, 29% do not have adequate water supply, 36% do not have electricity while 14% have no toilets.

Number rumble

The report also reveals there are 138,033 sanctioned posts for teachers in government schools. Of these posts, 123,380 have been filled. "The teacher-to-student ratio in government primary schools is 1:42, but the ratio is better for secondary schools: 1:23," stated the report.

According to the report, 27% of girls enrolled at primary schools are attending boys schools while at the secondary level 4% of girls enrolled are attending boys secondary schools. Similarly, 5% boys at the primary level are attending girls schools.

The number of functional schools have increased by 0.56%. Meanwhile, the recruitment of teachers has increased by 1.44% and student enrolment has gone up by 2% each year. The increase in the annual growth rate of girls enrolment is over three times greater than that of boys.

The report also includes statistics of non-government schools in K-P, which stand at 6,743. Of these schools, 449 are for boys and 283 for girls and 6,011 offer co-education. In these schools, there are 85,325 teachers.

Published in The Express Tribune, November 11th, 2015.
COMMENTS
Comments are moderated and generally will be posted if they are on-topic and not abusive.
For more information, please see our Comments FAQ