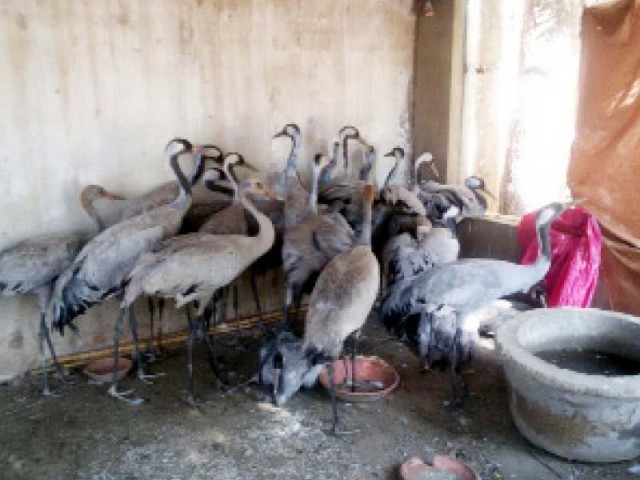 ---
LAHORE: Problems in legislation and control of wildlife trafficking were identified at the launch of a Worldwide Fund for Nature (WWF) project to combat illegal wildlife trade. The project is funded by the USAID under its Small Grants scheme.

"Ground realities should be taken into consideration before an action plan is implemented," said Brig (r) Mukhtar Ahmad, chairperson of the Wildlife Commission and vice president of the WWF Pakistan.

He said several plans had been drawn by government departments and international organisation that could not be implemented due to practical problems. "It is important to seek local solutions to the problem of illegal wildlife trade," he said.

Ahmad said an awareness drive on the perils of wildlife trade was essential for the cause.

He said poverty contributed to sustain illegal animal trade. "People want to feed their families. They do not worry about capturing and selling endangered species," he said.

"When we talk of illegal animal trade, we limit our thinking to international airports," he said.

"I wonder what mechanisms are in place to monitor Jiwani, Gawadar and Pasni ports. Ships standing there can smuggle animals in large numbers," he said.

The goals of the project were outlined by WWF's species conservation director Uzma Khan.

She said the project aimed at capacity building at government departments, especially the Customs Department. She said this would include six-day training workshops."This should help officials identify endangered species smuggled abroad most frequently," she said.

A study will also be conducted by the WWF to map areas where smuggling and capturing of animals is the highest.

The 11-month project has an $80,000 budget.

Representatives of the provincial wildlife departments and the customs department were also present. They stressed the need to create formal forums to improve inter-departmental and provincial coordination.

"Khyber Pakhtunkhwa, under its 2007 wildlife law, had declared that trade of any species banned in any province of the country, would be banned there," said Safdar Ali Shah, the KPK wildlife conservator. He said such mechanisms were essential.

"We need rescue centres where animals can be looked after," said Sharifud Din Baloch, the Balochistan wildlife and national parks conservator. He said often they could not immediately release animals into the wild, especially if the animal were not of an indigenous species.

He said the Wildlife Department in Balochistan had not been fully established. He said smuggling of animals from Afghanistan and Iran was a huge problem.

He said the department did not have the capacity to monitor the 700km-long coastline.

Published in The Express Tribune, November 5th, 2015.