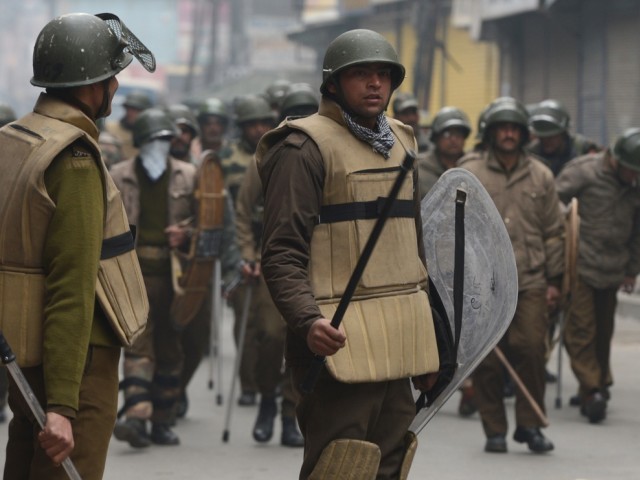 ---
Pakistan firmly rejected on Tuesday an Indian claim to Kashmir as an "integral part" of India, saying it was an internationally-recognised disputed territory.

"The legal and factual background of Jammu and Kashmir dispute is quite clear and efforts to mislead or confuse the international community would not succeed," Diyar Khan, a minister at the Pakistan Mission to the United Nations, told the General Assembly's Third Committee, which deals with social, humanitarian and cultural questions.

Non-implementation of UNSC resolutions on Kashmir issue is travesty of law: Maleeha Lodi

"Kashmir is not and cannot be an integral part of India," the Pakistani diplomat said, adding that the disputed nature of the state was well established by several UN Security Council resolutions that call for a settlement of this problem through a free and impartial plebiscite under the auspices of the United Nations.

Khan was reacting to a statement by Indian delegate Rattan Lal Kataria, who harped on the same old tune that Kashmir was its "integral part" and that Pakistan was in illegal occupation of a part of that "Indian state". He also claimed that people in Indian-occupied Kashmir had regularly participated in "free, fair and open elections."

Kataria, a member of the Indian parliament, was responding to Pakistani Ambassador Maleeha Lodhi's statement in support of Kashmiri people's right to self-determination.

'Peace in South Asia linked to solution of Kashmir dispute'

Khan, who was speaking in right of reply to the Indian delegate's assertions, referred to the argument that Kashmiris had already exercised their right to self-determination through elections, and said it was a fact to all that elections in Indian-occupied Kashmir were not only not recognised by the UN Security Council but also rejected by the people of Kashmir and their representative political leadership.

The Security Council resolutions had also clarified that no electoral exercise conducted by Indian authorities in Jammu and Kashmir could be accepted as a substitute to free and impartial plebiscite under the UN auspices.

Regarding Indian allegations of terrorism, he said it was a motivated campaign to divert attention from the real issue.

"The purpose of Indian allegations was to force Pakistan to stop raising the issue of Kashmir at the UN," Diyar said.

Pakistan committed to peaceful resolution of Kashmir dispute, PM tells Hurriyat leaders

Referring to the charge that Pakistan was occupying parts of Kashmir, Khan asked India to leave this question to the people of Kashmir. "If only India would agree to the UN plebiscite, as we do, the exercise of this free choice by the people of Jammu and Kashmir would clarify, once and for all, as to who is the real occupying force in Kashmir."

Meanwhile, another Indian delegate Mayank Joshi, speaking in his right of reply, said the statement delivered by the Pakistani representative on Kashmir was "incompatible with the universally accepted principles" underlined by those of the United Nations Charter and, therefore, rejected his comments.

Again taking the floor, the Pakistani diplomat said his country was not interfering in the internal affairs of India by raising the Kashmir issue at the United Nations.

"May I also remind the Indian delegate that India itself brought this dispute before the United Nations," he said.

For regional peace: China ready to work with Pakistan, India against terrorism

"India is a large country and we respect its territorial integrity when it comes to its integral parts, but Kashmir is not the integral part," he added.
COMMENTS (26)
Comments are moderated and generally will be posted if they are on-topic and not abusive.
For more information, please see our Comments FAQ