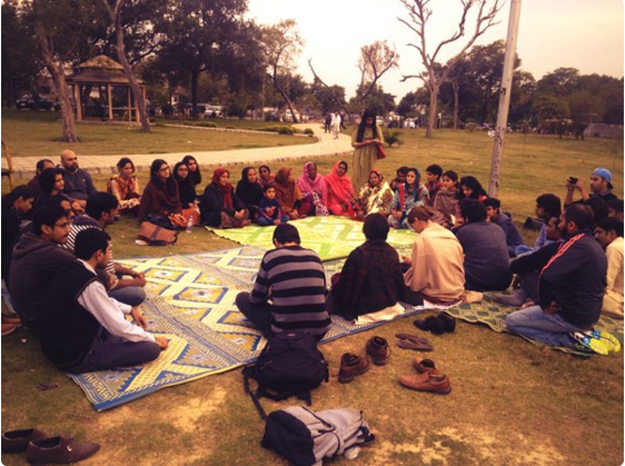 ---
ISLAMABAD:



It is important to work towards building a society which gives women the freedom to freely co-exist with men, without being violated.




This was consented by women rights activists and members of Awami Workers Party (AWP) at a joint session with 'Girls at Dhabas' on Monday evening.

"This country has more than 50 per cent women yet it is surprising that when you head out, you see them as a minority," said Girls at Dhabas head Sadia Khatri while speaking to The Express Tribune. This initiative works towards encouraging women to go out, sit at public places and use communal areas, which is their right as Pakistani citizens, she said.




Girls at Dhabas started off as an initiative by a group of friends and colleagues who wanted to demolish the idea that a woman should not be in a public space. "It started off by bringing changes to our own lives. We started walking around the city, cycling in Karachi, doing our groceries ourselves and simply going to roadside cafes for tea.

The idea was to shift the demographics of a public space," said Khatri.

She also emphasised that when it comes to violence, most of it is domestic and not really out on the roads and in public areas. "We are trying to make women mobile because empowerment does not exist without mobility," she said.

"Unfortunately, our society has two separate worlds; one for the rich and one for the poor. Similarly, men and women in our society live in separate worlds. Our aim is to build a society where the two have the same rights and can coexist," said Aliya Amir Ali, an academic and National Students Federation former secretary general.

The session on women empowerment also featured several men who raised their concerns and agreed that women should be given liberty in the society. Nusair Khan, a student of NUST, said he dreams of a society where he does not need to put in a deliberate effort to keep his mothers and sisters safe. "These gender roles defined by us should be challenged, a woman can be a great leader and a man can be the best chef, and this should be understood by the masses," he said. He further said that it is the wrong interpretation of religion and culture that leads to creating inequality for women.

Elishma Khokhar, an activist and researcher, said that being seen and being heard is the simplest form of peaceful protest one can use. "Unless women, like us, do not make a conscious effort to reclaim public spaces for themselves, we will never be able to achieve equality," she added.

Published in The Express Tribune, November 3rd, 2015.