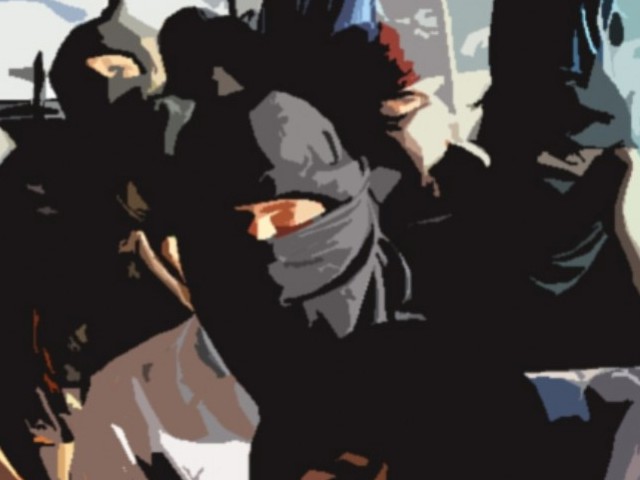 ---
KARACHI: The Manghopir police killed eight alleged terrorists affiliated with banned militant organisations, Tehreek-e-Taliban Pakistan (TTP) and alQaeda in an encounter on Saturday.

An SHO and another police official were injured as the police force traded fire with the militants. According to the police, the men were plotting a major terror attack on a Muharram procession. "We have saved the city from a big terror activity," SSP Rao Anwar told the media.

Police said that these terrorists were involved in many high-profile cases, including bomb blasts, kidnapping for ransom and targeted killings of policemen. Talking to the media, SSP Anwar said that four terrorists have been identified as Saddam Hussain, Sharifullah, Ismail Mehsud and Irfan Munir. Revealing the identifications of the terrorists, the SSP said that Saddam, Sharifullah and Ismail belonged to TTP while Irfan was an active member of alQaeda in this region. "Saddam was involved in Abbas Town incident that claimed more than 40 lives in 2013," said SSP Anwar. He also claimed to have recovered a large number of explosive material and weapons from the possession of terrorists.

Read: Intelligence officer, 2 militants killed in crossfire during Rangers raid in Karachi

SSP Anwar has now been given the special task to take action again terrorists involved in targeted killings of policemen. Talking about the encounter that took place near Northern Bypass, he said that the police, led by Manghopir SHO Ghulam Hussain Korai, raided the hideout of the terrorists following a tip-off provided by intelligence agencies regarding the presence of these suspects. "Soon after the police cordoned off the areas, the terrorists started firing and injured the SHO and another policeman, named Altaf Hussain," he said, adding that another heavy contingent of police was summoned that attacked the house, killing all the terrorists.

According to the police, Sharifullah belongs to the Punjabi Taliban group while Ismail Mehsud and Saddam Hussain were affiliated with Tehreek-e-Taliban splinter group, Abid Muchar.

"One of these terrorists, Ismail Mehsud, is involved in the attack on a police party in Shah Latif Town, where four policemen were killed in a patrolling mobile," said a police officer, adding that these terrorists had evolved a network with other militant organisations working in Karachi.

Published in The Express Tribune, October 18th, 2015.
COMMENTS (4)
Comments are moderated and generally will be posted if they are on-topic and not abusive.
For more information, please see our Comments FAQ