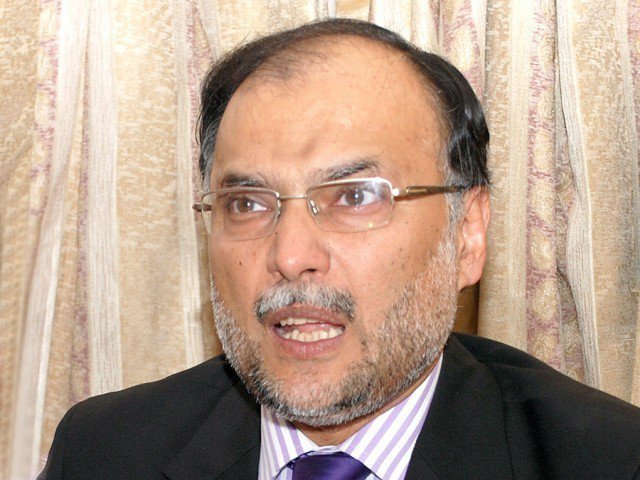 ---
ISLAMABAD:



Prime Minister Nawaz Sharif on Tuesday intervened in an ongoing tug of war among his senior cabinet members, asking Minister for Planning and Development Ahsan Iqbal to continue his 'good work'.




Ahsan Iqbal called on Prime Minister Nawaz Sharif in the wake of his growing differences with two key federal ministers. The issues related to the working of various ministries and the relationship of the cabinet ministers came under discussion, said the officials.

The planning minister remained successful in winning the confidence of the premier, who asked him to keep performing his job, according to officials privy to the discussions.

"I conveyed my reservations to the prime minister that the federal ministers should refrain from giving public statements against fellow ministers, to which the PM agreed," said Ashan Iqbal while talking to The Express Tribune. He said such issues should be discussed internally.




The minister said the main purpose of the meeting was to seek the prime minister's guidance on issues related to the China-Pakistan Economic Corridor (CPEC).

Minister for Water and Power Khawaja Asif and Minister for Petroleum and Natural Resources Shahid Khaqan Abbasi had publicly vented their frustration against Iqbal last week.

In a tit for tat response, the planning minister had also given a public statement, vowing that his ministry would keep performing its job to stop wastage of public funds.

Asif and Abbasi had accused the Planning Commission of working against the national interests by delaying approval of the projects of their ministries. They had demanded that the commission should be disbanded.

Iqbal said the good work of his ministry led to Rs490 billion savings in a single year through cutting down cost of the proposed projects. The premier also appreciated this fact, he added.

"The prime minister appreciated efforts of the minister of planning and development regarding saving measures adopted in various projects that have resulted in significant savings for the national exchequer," said an official handout issued by PM Office on Tuesday.

It stated PM Nawaz said the fast-track process of projects' planning, monitoring and evaluation undertaken by the Planning Commission should be maintained.

The handout said the prime minister appreciated efforts of the planning minister regarding capacity building of the ministry's officials that has resulted in enhanced performance of the ministry.

People close to the planning minister interpreted the PM Office's statement as acceptance of planning minister's position against the other two ministers. The PM's decision to put his weight behind Iqbal is in fact a continuation of the premier's policy of giving the planning minister preference over Khawaja Asif.

The prime minister has made Iqbal incharge of all energy-related projects including those initiated under the CPEC. The ownership of the energy sector projects that are situated in Punjab rests with Punjab Chief Minister Shahbaz Sharif.

Published in The Express Tribune, October 14th, 2015.
COMMENTS (2)
Comments are moderated and generally will be posted if they are on-topic and not abusive.
For more information, please see our Comments FAQ