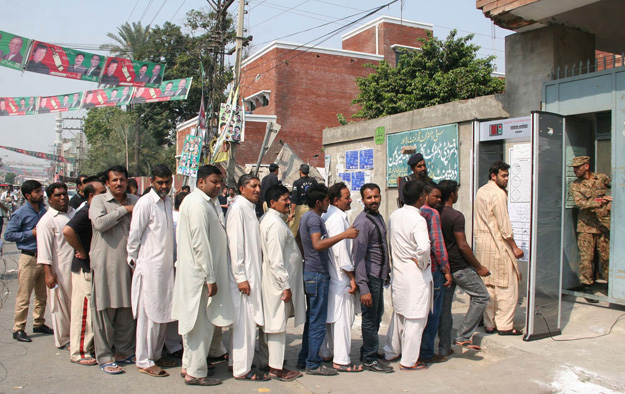 ---
LAHORE:



Scores of young voters had lined up outside polling stations in NA-122 upto an hour before they were allowed in to cast their ballot on Sunday. 




Some of the youngsters were voting for the first time, though many said they had also voted in 2013.

Dozens of students were seen chanting slogans and dancing to the beat of drums around stalls set up by Pakistan Muslim League-Nawaz (PML-N) and Pakistan Tehreek-i-Insaf (PTI).

Talking to The Express Tribune, 20-year-old Imran Ali said he had cast his vote for the first time. "The youth are frustrated...they feel alienated by those in power," he said. "This by-election is important for me because I want things to improve in this constituency."

Khalil Umer, a PML-N worker, said that the youth had come out in large numbers to support Ayaz Sadiq.

He said, "They supported him earlier and his popularity has not wavered," he said.

"The PTI boasts of extraordinary popularity among the youth," he said. "This election will prove that the PML-N is also popular among young voters."

Umer said that the PML-N had, for the first time, set up a Tigers' Force, comprising young members of the party.

He said members of Tigers' Force had helped voters by providing them with information about voting procedures and rules of the election commission. He said the members of the force had also taken out rallies in the constituency.

Insaf Student Federation Lahore information secretary Abdul Monim said youngsters had been an essential part of the PTI's campaign.

He said the ISF had helped mobilise support for the PTI candidates and had helped voters on election day.

Monim said the ISF had been assigned duties at UC-185. He said the ISF had deputed 150 activists for election duties.

He said ISF workers had been tasked with mobilisation, tracing votes, providing information and to ensuring that there was no mismanagement at polling stations.

He said the PTI was relying on young voters.

"The youth have been played an important role for the party," he said.

Monim said the ISF had managed the media cell of the PTI and had posted on social media networks on election day.

Published in The Express Tribune, October 12th, 2015.
COMMENTS
Comments are moderated and generally will be posted if they are on-topic and not abusive.
For more information, please see our Comments FAQ