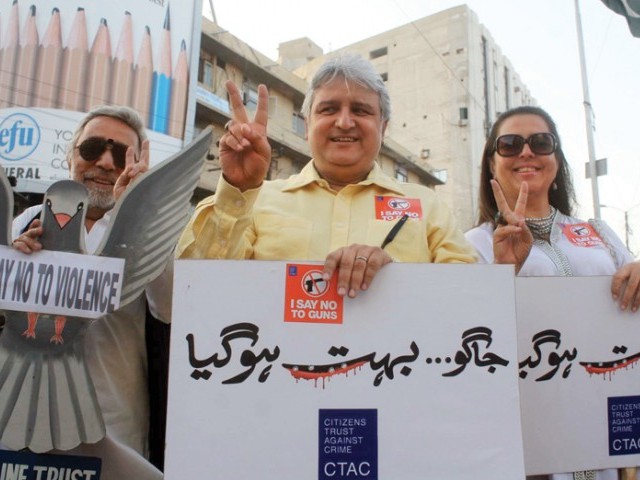 ---
The right to life and liberty is a fundamental right of all citizens. In 2014, the country lost over 15,000 lives to gun violence. In Pakistan, violence has been on the rise in society, ranging from domestic violence to extreme acts of terrorism. One contributing factor has been easy access to weapons as well as weak regulation when it comes to ensuring legal access to weapons and the prevention of their open display.  

Karachi has experienced more deaths caused by acts of violence and open display and use of weapons than any other city in Pakistan. A violent city is a city that starts exhibiting many other forms of an unsustainable city. Gated communities are formed, societal stratification takes place, public spaces become insecure, leading to decreased social cohesion. In the face of this challenge, citizen initiatives are being launched to tackle this threat to the peace and sustainability of the city. Citizens Against Weapons is a non-aligned, apolitical group of concerned citizens, based in Karachi, spearheaded by Naeem Sadiq and has set as its aim the pursuit of a peaceful and weapon-free Pakistan.

The group is mobilising public opinion and has also approached lawmakers, parliamentarians and other members of society with a detailed list of recommendations. Danish Azar Zuby is a well-known architect and an activist associated with the group. "The easy flow and availability of guns was one the greatest injuries suffered by our country, after the first invasion of Afghanistan, which helped give rise to crime and terrorism across Pakistan," he says. "The most direct method of controlling this menace is to reverse the situation by removing guns from the hands of citizens and making them non-available and to reverse the situation of guns and licences given as political bribes or otherwise."

The group strongly believes that possession of arms must be the exclusive domain of the state and no citizen must be allowed to possess, carry or display any weapon of any kind — licenced or otherwise. A concern has been raised that while private armies and militias are prohibited by Article 256 of the Constitution, there are, as the group claims, hundreds of such armed political, sectarian, criminal and private militias, often operated by the powerful elite that roam freely in urban and rural centres of Pakistan. Also demanded is an immediate ban on the import, sale, transportation, delivery and possession of all kinds of weapons — except those used by law enforcement agencies.

The group claims that the majority of gun licences in Pakistan are fake, forged or illegally issued — 0.6 million have been cancelled in Sindh, while 0.9 million in Punjab have no records. They also recommend establishing a National Commission for Deweaponisation that would implement a one-point agenda — to eliminate all weapons from all territories of Pakistan.

Another set of recommendations has been made for hospitals. The group demands that the carriage and display of weapons inside hospital premises be completely banned and that hospitals be declared weapon-free zones. Defence Housing Authority (DHA), Karachi has also been approached to declare the entire area that constitutes the DHA as a weapon-free zone. There is also a demand to ensure that guns firing from any house on any occasion, such as New Years, marriages and cricket matches, should be considered a violation of DHA rules and the residents should run the risk of cancellation of the lease to the said property. In addition, residents should be asked to remove all tents, road blocks, barriers and armed guards sitting outside their gates.

The Citizens against Weapons has initiated a debate that everyone should join and provide input that could lead to securing a more peaceful Karachi and Pakistan.

The writer is an urban planner and runs a non-profit organisation based in Karachi focusing on urban sustainability issues

Published in The Express Tribune, October 12th, 2015.