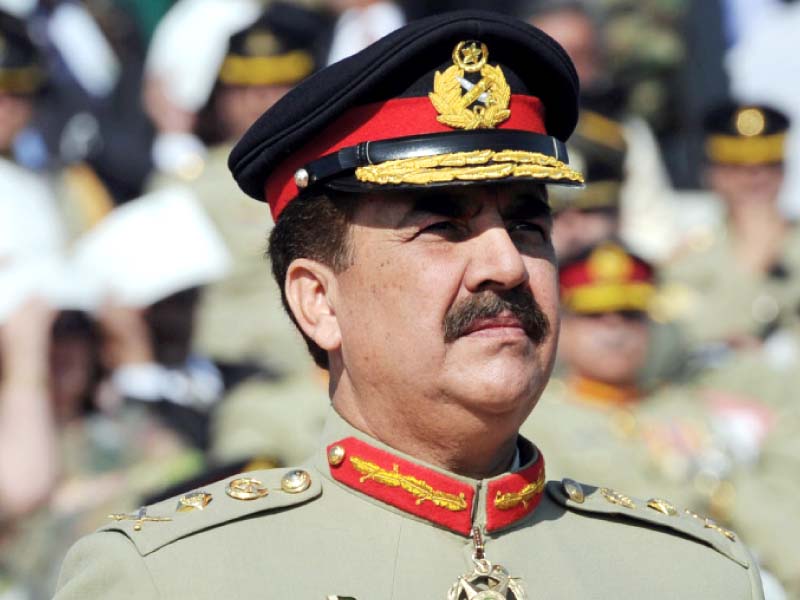 ---
ISLAMABAD:



Army chief General Raheel Sharif on Thursday cautioned against the emergence of new terrorist outfits in a pointed reference to recent attempts by the Islamic State (IS) to establish its foothold in the region.




"While we are fighting various terrorist groups, no new entities can be allowed to emerge," he said during a visit to the International Institute of Strategic Studies (IISS) and interaction with members of British House of Commons in London.

This is the first time the army chief, who is currently on a visit to UK, has publicly spoken about the potential threat posed by IS, also known as Daesh, in this part of the region.

Although Pakistan has denied the presence of IS on its soil, the government did recently proscribe the Middle Eastern terror outfit. The group is believed to have already made inroads in the neighbouring state of Afghanistan and Islamabad fears the militants may exploit the current volatile situation in the war-torn country.




Barely 48 hours earlier, the US State Department had included IS-Khorasan, the group's affiliate in Afghanistan and Pakistan, in its latest terror watch-list and slapped sanctions against several IS leaders.

According to the military's spokesperson, Gen Raheel said terrorism was a global issue and hence warranted a global response.

He also said Operation Zarb-e-Azb's success had a "discernible effect" in the fight against terrorism in Pakistan and the country would continue to target sleeper cells.

The army chief added the world needed to understand the environment and context under which Pakistan was fighting the war on terror. He pledged to eliminate terrorists and their nurseries but also reminded other countries to play their role in fighting the menace.

"Funding of all terrorist organisations has to be checked by everyone for long term success," Gen Raheel emphasised in an apparent reference to Pakistan's concerns that certain militant groups, including Baloch insurgents, were getting support from other countries.

He made it clear that Pakistan was against the use of proxies and therefore it would not allow its soil to be used against any other country.

Speaking about China-Pakistan Economic Corridor (CPEC), the army chief said the project would be a game changer and bring prosperity to the region. "We will do everything to make it a success. The project will benefit the whole region," he said.

Earlier, speaking at a reception hosted by the Pakistani high commissioner in London, he said Pakistan wanted "cordial' relations with India but not at the cost of compromising its dignity and honour".

His statement came hours after Prime Minister Nawaz Sharif proposed a four-point peace initiative to India at the UN General Assembly.

The army chief said Pakistan was seeking better ties with all its neighbours including Afghanistan and India but without comprising on its national interests. Pakistan's relations, both with India and Afghanistan, are currently strained at the best.


Published in The Express Tribune, October 2nd, 2015.