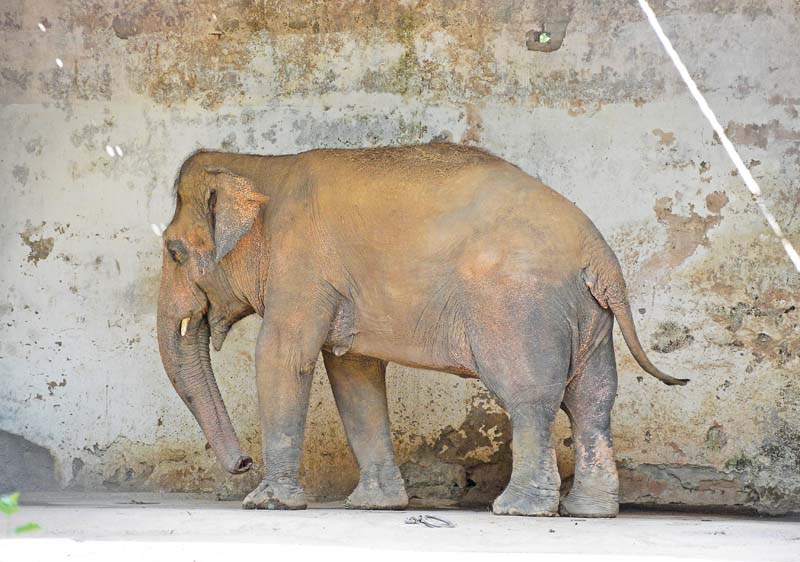 ---
ISLAMABAD: Kaavan, a 31-year-old Asian elephant, has been unshackled in its enclosure at the small zoo of the federal capital – three years after the beast was put in chains.

Kaavan was put in chains by the Islamabad Zoo administration for security of visitors after the death of its female companion, Saheli, in 2012. The elephant was set free within its enclosure after Prime Minister Nawaz Sharif intervened in the issue following global outcry over the animal's plight.

However, animal rights campaigners, who have been pursuing the issue vigorously, have announced that they would continue their campaign until Kaavan was released to an elephant sanctuary. They have also criticised a decision – announced by MNA Marriyum Aurangzeb on Friday who visited the zoo on the prime minister's directions – of bringing a female partner for Kaavan from Sri Lanka to address his loneliness-related issues.

Read: World leaders urged to join campaign to free Kaavan




A strong online petition, Help Free Kaavan – backed by over 265,000 animal-lovers – is now demanding its release to a sanctuary.

"The decision of bringing more elephants to live with Kaavan was short sighted on many fronts," Scott Blais, CEO and Board President of the Global Sanctuary for Elephants and co-founder of The Elephant Sanctuary in Tennessee, told The Express Tribune.

"The [Islamabad] zoo lacks space, expertise, proper facility and commitment to provide even a fraction of the quality of life Kaavan or any other elephants require and deserve," he added.

Blais said that without controversy, that captivity is inherently damaging, physically, psychologically and emotionally. "Everything that is natural has been taken away from him, all for the false pretence of education to help the public learn all about elephants."

Blais added that there is only one right decision which is to release Kaavan to a sanctuary that can truly provide for his inherent needs.

Read: The last elephant: Kaavan's sad existence draws global outcry

The issue first drew attention of an American national of Pakistani-origin, Zareen Khan, who was on a visit to the federal capital a couple of weeks ago. When contacted the CDA spokesperson, Ramzan Sajid said that the high-ups would decide about releasing the elephant to some sanctuary.

Published in The Express Tribune, September 21st,  2015.