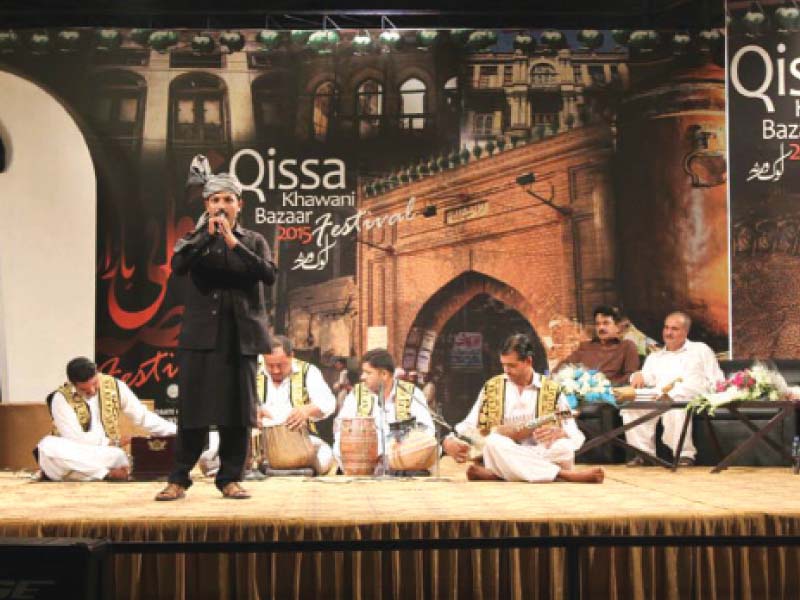 ---
ISLAMABAD:



The grand finale of rubab competition left the audience spellbound at the Lok Virsa Open Air Theatre on Friday evening.




The performance was part of the four-day Qissa Khawani Festival which concluded on Saturday with the screening of Pashto film Yousaf Khan Sherbano. The festival was organised by the Lok Virsa and Khyber-Pakhtunkhwa Culture Department.

The rubab competition titled "Rubab: The Soul of Khyber Pakhtunkhwa" featured 16 artists.

With the very first performance, the audience went into a trance and the clapping, whistling and foot tapping continued till the last performance.

Though many in the audience did not know Pashto, they could understand the music and tunes.

Rubab players competed with a healthy spirit and showed their love and dedication for the culture. Hailing from all across Khyber -Pakhtunkhwa, the competitors came from different backgrounds, ranging from university students to tailors and fruit vendors to rickshaw drivers.

"I do not do anything. I just play Rubab, it is my love," said Fazal Diyan, a contestant from Swabi. "My teacher, Zafar, submitted my name for the competition," he said in Pashto.

The stage depicted Peshawar's "Yaadgar Chowk".

Many said performing in front of a packed hall was like a dream coming true for them. As they performed, video clips of their auditions played on a side screen.

The audience consisted of men and women, young and old, coming from different backgrounds. "The event is a wonderful initiative to teach the youth about their culture and traditions," said Wajiha, as her toddler daughter danced to the tunes.

Among the audience was a Canadian rubab player, Shenan, who currently resides in Islamabad. "I enjoy playing rubab. A friend gifted me one," she said.

The jury members included Ghulab Afridi, Nazir Gul and Sabz Ali. As the performances went on, some from the audience felt for the judges, as they had to perform a tough task. "All of them are at their best. How are the judges going to judge them," said an audience member.

Speaking to The Express Tribune, Lok Virsa Executive Director Dr Fouzia Saeed said, "We want to acknowledge the spirit. The contest is first of its kind," she said.

"We are trying to give the youth a full cultural experience. We want them to know about their roots and culture." Saeed said all the contestants loved their craft.

She said the Lok Virsa will also hold competitions of traditional music instruments from other provinces: dhol from Punjab, Khartal and Ektara from Sindh and Saroz from Balochistan.

Cash prizes were awarded to top three contestants besides two consolation prizes.

Saeed hoped female contestants would also come forward the next year. Well, the wait for the next year's competition has already started.

Published in The Express Tribune, September 20th, 2015.
COMMENTS
Comments are moderated and generally will be posted if they are on-topic and not abusive.
For more information, please see our Comments FAQ