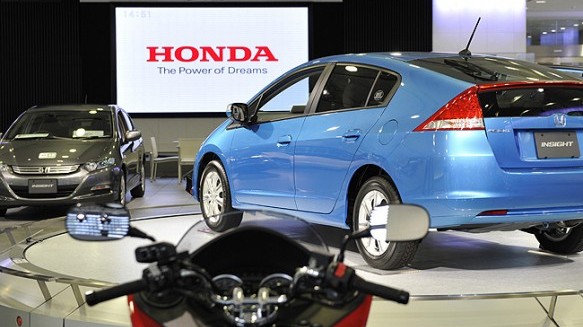 ---
TOKYO: Honda Motor, Japan's second largest automaker, said on Wednesday profits surged 95.9 percent in the fiscal year ended March, as Japanese automakers continue to recover from the economic crisis.

The auto giant announced a profit of 268.4 billion yen (2.87 billion US dollars) in the fiscal year while also overseeing a return to profit in the fiscal fourth quarter after suffering a loss from the same period a year ago.

Honda said fourth-quarter profit amounted to 72.1 billion yen compared to a loss of 180 billion yen the previous year.

With Asia, in particular India and Indonesia driving sales, fourth quarter revenue rose 27.8 percent year-on-year to 2.2 trillion yen thanks to the booming Chinese market and Japanese government incentives for new cars.

For the year, the maker of the popular Civic and Accord models said operating profit increased 91.8 percent to 363.7 billion yen on the back of cost-saving operations.

This came despite revenue declining 14.3 percent to 8.5 trillion yen on-year because of "unfavourable currency translation effects" with a relatively strong yen against the dollar hitting earnings, it said.

"The company's efforts for cost cutting, namely in the area of sales promotion, was one of the main factors" for the financial improvement, vice president Koichi Kondo told a news conference on Wednesday.

"The company has reviewed and tightened its business for a great deal. In addition to that, the performance in the motorcycle division remained resilient compared to that of automobiles," he said, referring to healthy sales in Asia.

Honda's surging profit comes as Japan's automakers rebound from the demand-sapping effects of the global slump, and can be partly explained by last year's low basis of comparison as consumers retreated.

Rival maker Mitusbishi reported a return to the black Tuesday and Mazda saw its losses shrink amid the improving economic picture.

The Japanese auto industry has also faced a string of reputation-tarnishing safety recalls, with Toyota issuing notices for around 10 million of its vehicles. Honda recently recalled 412,000 US vehicles over brake problems. However, in a further indication of the industry's resilience, Honda said fourth quarter automobile sales increased 28.5 percent compared to the same time last year, with motorcycles up 30 percent.

For the year, Honda saw auto sales outside Japan decrease 7.3 percent compared to the previous fiscal year to 2,746 thousand units, blaming falls on "sales in North America and Europe, despite increased unit sales in Asia." The firm forecast a 26.7 percent profit rise in fiscal 2011 to 340 billion yen.