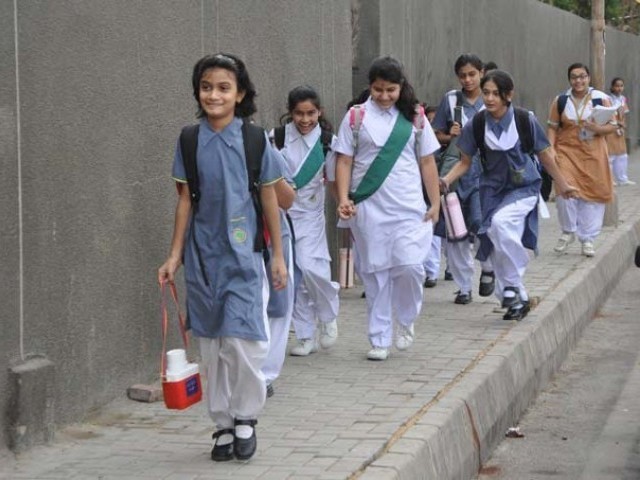 ---
KARACHI: Almost nine months after the barbaric attack at the Army Public School (APS), Peshawar, on December 16, schools have been asked to implement extensive security measures but no one had provided any training to students and teachers who could possibly face such terrorist attacks in the future.

To prevent similar attacks in the future, there is a dire need to issue a safety manual for educational institutions with workshops and extensive training on safety measures in schools. The 70F Friends of Humanity Foundation, in collaboration with the Pakistan Educational Foundation (PEF), launched one such manual on Sunday.

"What should we do after the APS attack? Curse terrorists and watch politicians on talk shows or should we unite together, as a nation, to develop something constructive to prevent any future loss?" questioned the president of the 70F Friends of Humanity Foundation, Syed Shahid Hasan.




"We should not have to repeat what we faced on December 16 last year," said Hasan, who is also the author of the manual. He was addressing the launching ceremony of the 'Security Manual for Educational Institutions in Pakistan'. He also said that by launching this safety manual, the foundation is trying to inculcate different things in students, including medical and casualty evacuation, preventive measures and threat perception.

Launching a book is easy but results will be only seen when students display the skills gleaned from this 120-page manual, said the middle school section head of APS Peshawar, Sameena Nawaz. Addressing the audience, she said that they, more than anyone else, know the importance of this manual. .

Chairperson of the PEF, Adnanul Arabi, said that they have a formulated a plan for a series of lectures and workshops for students and teachers, while version of the manual is also available online.

Published in The Express Tribune, September 7th,  2015.
COMMENTS
Comments are moderated and generally will be posted if they are on-topic and not abusive.
For more information, please see our Comments FAQ