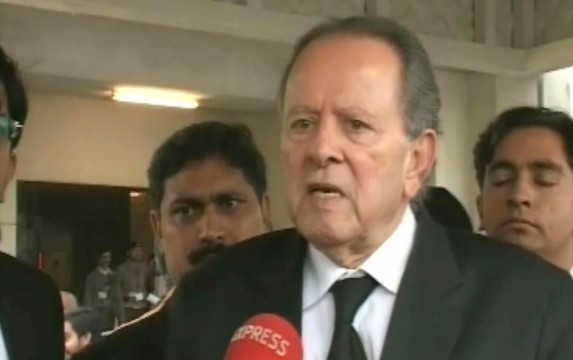 ---
SUKKUR: Lawyer and founding member of the Pakistan Peoples Party (PPP), Abdul Hafeez Pirzada, who is the coveted author of the country's 1973 Constitution, was laid to rest on Saturday afternoon.

A close aide of PPP founder Zulfikar Ali Bhutto, who used to refer to him as 'sohna munda', Pirzada breathed his last in London on September 1. His body was brought to Pakistan and he was laid to rest in his ancestral graveyard, in the premises of Dargah Jeay Shah, in Old Sukkur. A large number of political personalities and people from all walks of life were in attendance at his funeral prayers.

Pirzada's body was brought to Sukkur airport on an air ambulance and was received by opposition leader Khursheed Shah. It was then taken to his ancestral home near the dargah, where thousands of mourners had gathered to pay homage.

Read: PTI counsel Hafeez Pirzada admitted into UK hospital

Apart from the opposition leader Sindh Chief Minister Qaim Ali Shah, Sindh Assembly speaker Agha Siraj Durrani, Senator Islamuddin Shaikh and his son MNA Nauman Islam Shaikh, MNA Ghous Bux Mahar, Pakistan Tehreek-e-Insaf leaders Shah Mehmood Qureshi, Jahangir Tareen and Nadir Akmal Leghari, Pakistan Muslim League-N leaders Mumtaz Ali Bhutto and his son Ameer Bux Bhutto, former Punjab governor Ahmed Mehmood Qureshi, Ghulam Mustafa Khar, and several others attended his last rites.

Pirzada was buried near the grave of his father, Abdul Sattar Pirzada, who had served as the Sindh chief minister between May 22, 1953, and November 8, 1954. Pirzada has left behind two sons, two daughters and a wife in mourning.

A fulfilling career

Belonging to a prominent Sindhi family of Sukkur, Pirzada went to the University of Karachi for his LLB degree, followed by LLM from Sindh University. He also obtained an MSc in Political Science in which he wrote a brief thesis on the Soviet Union and the rise of communism. Pirzada began his professional career at the Sindh High Court and became one of the 30 members who founded the PPP on November 30, 1967.

Elected as MNA in 1970, Pirzada remained a loyal member of the PPP government between 1971 and 1977. As law minister, he led the committee that drafted the 1973 Constitution of Pakistan.

He was arrested, along with Bhutto, by the military in 1977 but was released a year later. Upon his release, Pirzada filed a petition in the Supreme Court requesting a review petition and fought several legal battles while Bhutto was in jail.

He was arrested once against on October 1, 1982, for demonstrating against General (retd) Ziaul Haq's Islamisation policies.

Following the ouster of the PPP government and Ziaul Haq's martial law, Pirzada developed differences with Begum Nusrat Bhutto and Benazir Bhutto, and stayed in exile in the United Kingdom.

On his return to Pakistan in the late 1980s, Pirzada withdrew from active politics and fully concentrated on his legal career.

Published in The Express Tribune, September 6th, 2015.
COMMENTS
Comments are moderated and generally will be posted if they are on-topic and not abusive.
For more information, please see our Comments FAQ