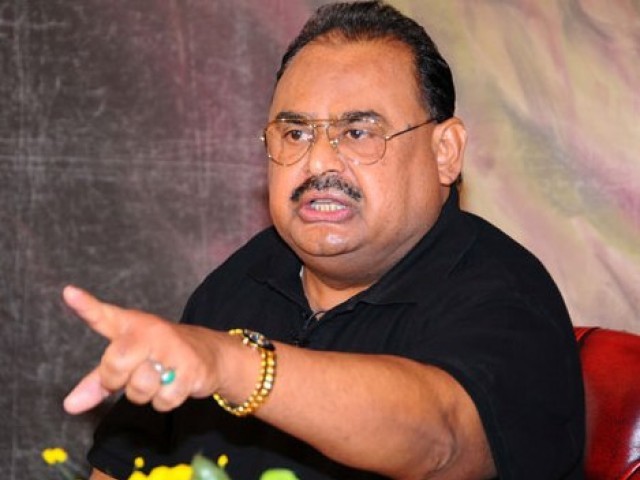 ---
KARACHI: The Muttahida Qaumi Movement (MQM) chief on Thursday again reiterated his claims that conspiracies were being hatched against him and plans were being made to form a new party.

"Conspiracies are being hatched in Islamabad to form a new MQM," said Altaf while addressing his workers at the Lal Qila ground.

The MQM chief stressed that he has always respected the armed forces and continues to respect them. "The jawans of police, Rangers and the army are our sons. We have no ego but we want our complaints to be addressed and that we are given justice."

Read: MQM, JUI-F withdraw motions seeking to de-seat PTI MNAs

But in the same breath Altaf criticised the army for being after Pakistan Peoples Party's co-chairman Asif Ali Zardari but said they had left him because the former president held their secrets.

"The army generals are after me now," he claimed. "Thousands of workers have been killed and many others have gone missing. If I don't write letters to the UN, then who should I go to? The courts are not listening to us," Altaf lamented.

He said that no commission has been formed on missing workers and no notice has been taken on the issue, asking people if they were prepared to go to Islamabad and demand justice. He said that they would go to the Supreme Court for their missing workers.

Altaf said that raids were being conducted at their offices and head offices. "The Rangers have presented us a list of men they want. They should have given the phone numbers and addresses." Speaking on his conversation with the National Assembly speaker, he said that they spoke on how all national institutions should be respected and safeguarded.

Lashing out at the party's Rabita Committee, he said that few Rabita Committee members have settled abroad after minting money from MQM, leaving the party in difficult times.

Read: MQM denies asking India for help over 'missing' workers

"If the Rabita Committee left me, what should I do," he questioned, asking the committee to hold a massive rally within a week at Tibet Centre and gather details about all missing workers, telling them to contribute and give donations for the event.

Published in The Express Tribune, August 7th, 2015. 
COMMENTS (10)
Comments are moderated and generally will be posted if they are on-topic and not abusive.
For more information, please see our Comments FAQ