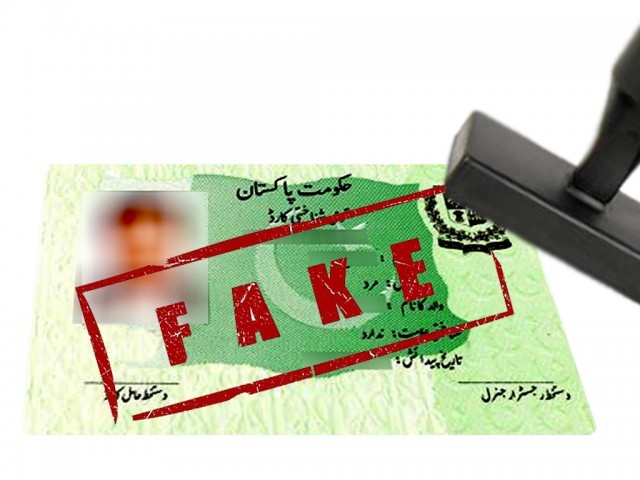 ---
ISLAMABAD:



Several top ranking officers of the National Database and Registration Authority (NADRA) have helped terrorists and other miscreants obtain fake national identity cards of Pakistan, reveals a report shared by the country's premier intelligence agency with the NADRA chairman.




In the report, the Inter-Services Intelligence (ISI) listed 40 officials who have been involved in issuance of fake national identity cards. Some retired army officers, who currently hold top positions in NADRA's Karachi office, are also on the list. They include General Manager (Projects) Brig (retd) Ehsanul Haq, Deputy GM (Operations) Lt-Col (retd) Aqeel Ahmed and Deputy GM (Operations) Maj (retd) Nihal.




According to the ISI report — a copy of which is available with The Express Tribune — the agency, after a comprehensive intelligence scrutiny as part of its counter-terror operations, found many NADRA officials involved in facilitating attempts by terrorists and miscreants to obtain fake identity cards.

Read: NADRA inaugurates online CNIC issuance, renewal facility

The scrutiny was carried out after the law enforcement agencies recovered Pakistani passports and computerised national identity cards (CNICs) in possession of a number of local and foreign terrorists they killed or apprehended as part of the ongoing terror purge.

According to the report, a senior al Qaeda leader who was killed by the Pakistani military last year had been in possession of a national identity card for overseas Pakistanis (NICOP).

Adnan G el Shukrijumah, a senior leader of al Qaeda's external operations programme who also went under the name Jaffar al Tayyar, possessed a NICOP bearing No 121015-9547114-7 under the fake identity of Shahzaib Khan, son of Akbar Khan, the report says.

Shukrijumah, an American national who was on the most wanted list of the Federal Bureau of Investigation (FBI), was killed by the Pakistani military in an encounter in South Waziristan Agency on December 6, 2014.

The brothers of Syed Tayyeb Agha, the former head of the Afghan Taliban's political office in Qatar, were also able to get CNICs, according to the report. Agha's brothers Mohammad Tahir and Mohammad Younis obtained the CNICs through the latter's father-in-law Maulana Mohsin and with the connivance of NADRA officials, it says. Tahir and Yousaf were arrested by the ISI in April 2014.




Three Uzbek nationals arrested by Qatar police in December, 2013 in connection with a bank robbery also possessed Pakistani CNICs and passports, the report says. The three men held the documents under the names Shahzad Khan (CNIC No 17201-1006340-3), Inam (CNIC No 17301-5839120-7) and Usman Arshad (CNIC No 17301-5215412-3).

ISI investigations also discovered that the NADRA registration centre in the Keamari area of Karachi had sold CNICs to Afghan and Bengali nationals for Rs10,000 to Rs20,000, the report says. "There is credible information that NADRA offices in Lahore and D I Khan are also issuing CNICs to foreigners," it adds.

A NADRA spokesperson confirmed to The Express Tribune that the chairman's office had received the ISI report. "All CNICs which were issued to foreigners as mentioned in the report were blocked as soon as we received it," he said. The NADRA chairman has ordered a departmental inquiry against the officers accused in the report and that strict action would be taken against those found guilty, he added.

Read: Afghan president holds Pakistani identity card

Recently, Interior Minister Chaudhry Nisar Ali Khan told the media that some 26 fake CNICs were issued by NADRA in 2011, 493 in 2012, 6,000 in 2013, 22,000 in 2014 and 64,000 this year. All of these cards had been blocked, he said.

Pointing to the figures revealed by Nisar, the NADRA spokesperson said it was proof of the authority's resolve to track down and block CNICs issued in a fraudulent manner.

Published in The Express Tribune, August 6th, 2015. 
COMMENTS (20)
Comments are moderated and generally will be posted if they are on-topic and not abusive.
For more information, please see our Comments FAQ