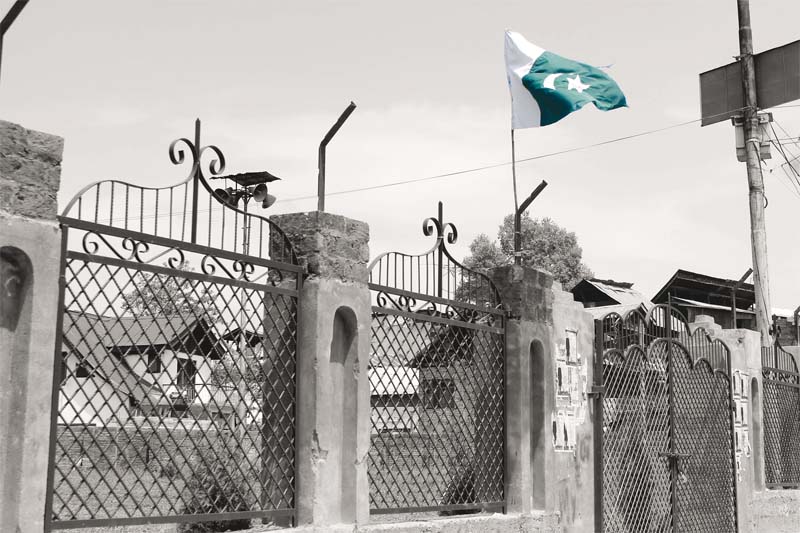 ---
The national flag is the emblem of patriotism, displayed jubilantly and unabashedly to mark any country's freedom. The same, however, raises red flags when hoisted in hostile territory. In Indian Kashmir, the recent display of Pakistani flags during a pro-freedom rally evoked a furor in the Indian media and among mainstream political parties from the valley all the way to New Delhi. But the people of Kashmir say the practice of displaying and making the Pakistani flag in the region is as old as the armed resistance itself.

Many people were spotted carrying Pakistani flags at pro-freedom rallies and protests during the mass uprisings in 2008 and 2010. Even when militancy trumped civil agitation, the practice of hoisting Pakistani flags was a common one. But how these flags are made is another story altogether. Fearing arrest by Indian forces and security agencies, many make them secretly, often procuring green and white coloured clothes to cut up and make flags out of.

Abrar*, 24, is a resident of Hyderpora Srinagar, the residence of Hurriyat Chairman Syed Ali Shah Geelani. Abrar says he buys green and white clothes and then gives them to a tailor to turn them into a flag. "The tailor is a friend of mine, which is why I trust him. After he's stitched the flag, I take it to another friend who draws a crescent and star over it," he adds. It costs Abrar Rs200 to get the flag stitched and painted, but he doesn't mind. "I love Pakistan and its flag. Rs200-300 is a not a big deal."

In the city of Srinagar, a few camping agencies also help make Pakistani flags. Muhammad Ahsan* owns one such camping agency in the old city. An ardent supporter of the freedom movement, Ahsan recalls how during the 2010 agitation he would cut the dastarkhwan — a long piece of cloth usually used to lay out a spread over — into many pieces, paint them green and draw a star and crescent on them.

"I have made a number of flags by cutting the dastarkhwan. I would give them to my friends and some young passionate boys free of cost. In those days, everyone was waving Pakistani flags, and so did I," shares Ahsan.

Others take great care to ensure no one knows what they are up to. A boy from Srinagar's Habbakadal area, Shakir* says he makes the flag himself at home. "I have a paint box and a sewing machine in my attic. Whenever I need a flag, I make it there without letting anyone know, not even my family," he says, adding he is extremely cautious because security agencies often hunt down boys who hoist Pakistani flags during rallies.

In Old Barzulla, which is considered a hotbed of pro-freedom activities and a stronghold of Geelani's supporters, two Pakistan flags always remain hoisted in a public park. Moreover, two large posters of United Jihad Council chief Sayeed Salahuddin and Syed Ali Shah Geelani are on display there.

Despite the risks involved, Srinagar's residents remain adamant in their quest to hoist the Pakistani flag as high as their hopes. To them, the flag is not just a flag. It is a manifestation of their aspirations.

*Names have been changed to protect identities.

Haziq Qadri is a Kashmir-based photojournalist. He tweets @haziq_qadri 

Published in The Express Tribune, Sunday Magazine, August 9th, 2015.