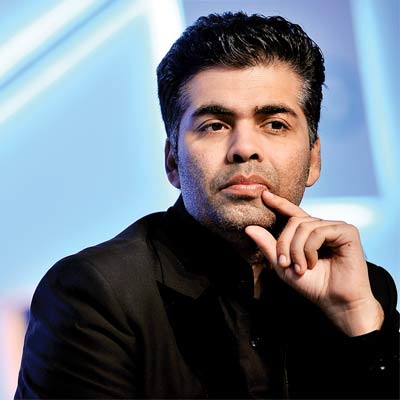 ---
Following the recent legalissation of gay marriage in the US, a Twitter user took a jab at Karan Johar, hinting at his sexuality. An outraged KJo, expressed his utmost contempt at the tweet.
#Rumors : @KaranJohar to get married soon in USA.

— Pratik Malhotra (@PratiikMalhotra) June 27, 2015


To which Karan replied:


https://t.co/5We8Ko4Sbg it's so sad and disgusting when a major breakthrough movement is made into a mockery by some on Twitter!! Shame!!!

— Karan Johar (@karanjohar) June 27, 2015


The long-rumoured-to-be-gay director has never publicly spoken on his sexuality, but his interview with Harper's Bazaar India earlier this year left many speculating whether the director is, in fact gay.

Read: Actors, celebrities tweet in joy at US gay marriage ruling

"If I was interested in dating women, she would probably be the woman I would want to date. Of course, she has her limitations and so do I," said KJo talking about his long-time collaborator and best friend, actress Kareena Kapoor.

Many took the statement as a confirmation of his homosexuality, and he has since been the butt of gay jokes.

However, his reply to Pratik's tweet was not well-received by a few who accused the 43-year-old of hypocrisy.

Read: Hamza Ali Abbasi, social activist or moral crusader?

https://twitter.com/3dipkumar/status/615373535570104320
https://twitter.com/ram191182/status/615381100366446593
https://twitter.com/pranavdamele/status/615381017558417408

@karanjohar @PratiikMalhotra I thought you could take a joke or two Karan #LetItGo

— fredster (@DefunctKhan) June 29, 2015
@karanjohar asked d ppl to take his AIB roast not so seriously. Now luk how hez crying? #Lol be Mature Yaar!https://t.co/2xQvdRWChL

— Farhan Ashfaq (@farhanqaafa) June 29, 2015

https://twitter.com/3dipkumar/status/615374565233983488


COMMENTS (9)
Comments are moderated and generally will be posted if they are on-topic and not abusive.
For more information, please see our Comments FAQ