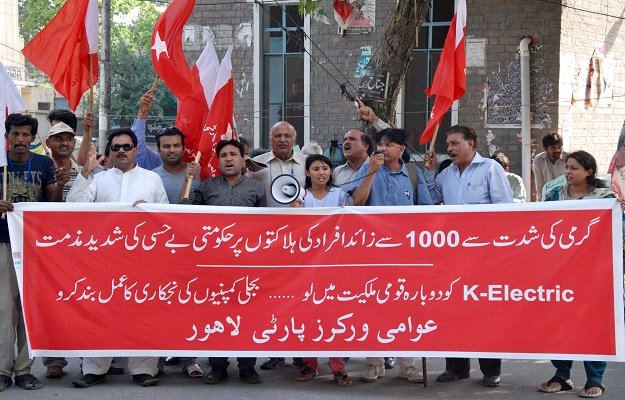 ---
LAHORE: The Awami Workers Party (AWP) on Wednesday held a protest demonstration in front of the Lahore Press Club against the loss of lives from the ongoing heat wave in Karachi.

According to a statement issued by the party, the federal and provincial governments were both responsible for the deaths. "The ruling parties cannot escape responsibility for the tragedy by explaining it as a natural or unavoidable occurrence. The loss of lives is a direct result of the poor governance practices.

The current federal and provincial administrations are continuing with the same practices including privatisation of basic public services like water and electricity," the statement said.

AWP General Secretary Farooq Tariq said the government had sown the seeds of the tragedy decades ago with the transfer of Karachi's electricity supply infrastructure to a private company. "Water, electricity and other basic amenities are human rights. There is no reason why the state should privatise them," he said.

AWP Federal Committee member and Lahore general secretary Shazia Khan condemned the dismal performance of the Sindh government in managing the tragedy. She said the Sindh and Karachi city governments had completely failed in managing the rescue and relief efforts.

Published in The Express Tribune, June 26th, 2015.