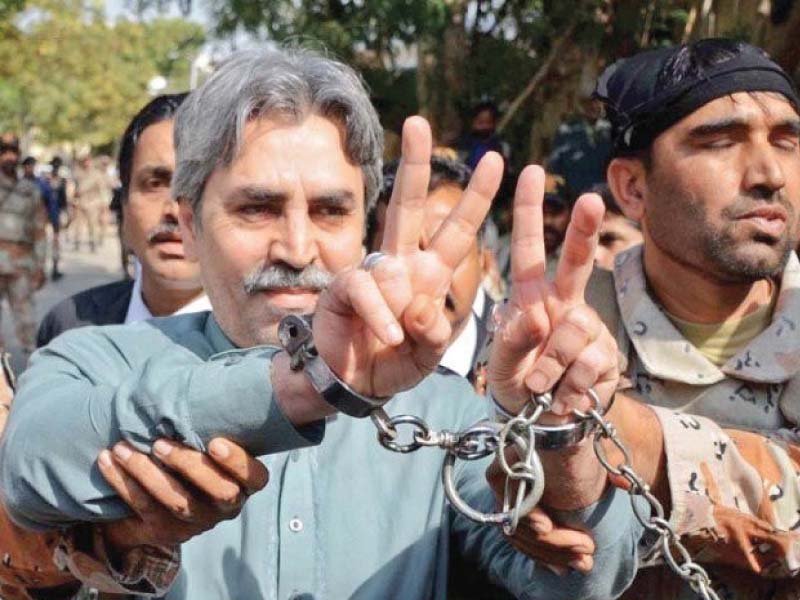 ---
KARACHI:



The police submitted on Tuesday a charge-sheet against Muttahida Qaumi Movement (MQM) leader Amir Khan in a case of instigating terrorism and harbouring criminals, registered against him recently.




Khan, a member of MQM's Rabita Committee, was booked under the Anti-Terrorism Act (ATA) on the complaint of a Rangers official earlier this month after his three-month preventive detention period expired.

According to the Rangers, Khan, who was also the security incharge of the heavily guarded MQM headquarters, Nine Zero, had admitted to protecting and sheltering criminals arrested in the March 11 raid.

At least 100 party workers were taken into custody during the raid, 26 of whom were allegedly found to possess illicit weapons and explosives, while 59 others, including Khan, were interrogated on suspicion.

According to the challan submitted to the ATC-II, statements of 26 detained MQM workers, including death convict Faisal Mota, who has been awarded capital punishment for murdering journalist Wali Babar, Ubaid Khursheed alias K2, wanted in a number of high-profile cases, and Noman alias Nomi, the key absconding suspect in the Advocate Naimat Ali Randhawa killing case, have been made part of the case and will be recorded again before the court once the trial crosses the indictment phase.

The challan was submitted to the court through special public prosecutor Rana Khalid, who represents the paramilitary force. The case against Khan is of a rare nature as Sections 21J and 11V of the ATA have been incorporated in it, which can lead to life imprisonment if the case is proven. Khan is currently in jail custody on judicial remand with temporary B-class facilities. The hearing of the case has now been fixed for June 25, when copies of the prosecution-related documents will be supplied to the accused.

Published in The Express Tribune, June 24th, 2015. 
COMMENTS
Comments are moderated and generally will be posted if they are on-topic and not abusive.
For more information, please see our Comments FAQ