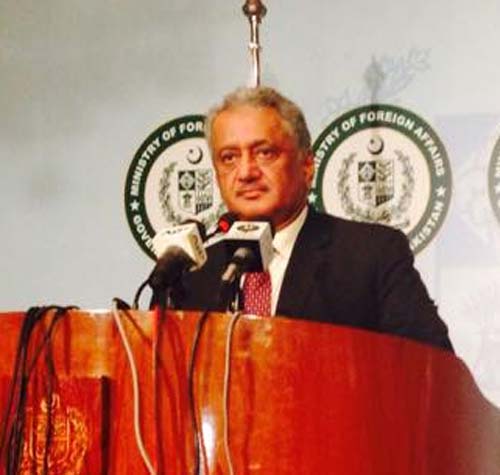 ---
ISLAMABAD: Amid ongoing tensions triggered by a verbal duel between politicians from Pakistan and India, the Foreign Office said on Thursday normalisation of ties between the two countries are vital for peace and development in the region.

"Pakistan will welcome any positive step that promote peace and bilateral relations between the two countries," Foreign Office spokesperson Qazi Khalilullah said, during his weekly press briefing in Islamabad.

"Pakistan on its part is committed to good neighbourly relations with all the regional countries, including India," the spokesperson added.

Read: Pakistan guns for peace amid Indian tirade

However, he upheld there are 'serious issues' between the two countries which need to be resolved through dialogue process.

Responding to a question on whether Pakistan has contacted the international community on Modi's admission of his country's role in the breakup of Pakistan, the spokesperson said, "Pakistan will take all appropriate actions necessary to protect its interests."

Khalilullah's statement follows Indian Prime Minister Narendra Modi's telephone conversation with Prime Minister Nawaz Sharif to convey his greetings on the advent of the Islamic holy month of Ramazan.

Read: Verbal duel ceases for now as Modi calls Nawaz

The conversation, which according to the prime minister's office lasted for five minutes, is seen as significant against the backdrop of the current verbal spat between Pakistan and India.

During the call, the Indian leader said his country wanted 'good ties' with Pakistan while Nawaz, on his part, stressed that Islamabad and New Delhi should strive for peace by overcoming their differences.

Nawaz's remarks suggested that despite rising tensions, the Pakistani government is still keen to de-escalate the situation.

"No IS footprint in Pakistan'

Further, the FO spokesperson denied that the militant group, Islamic State (IS), has a footprint in Pakistan.

"Pakistan stands committed in the war on terrorism and this role has also been appreciated by the international community," he reiterated.

Qazi also lauded the armed forces on the completion of one year of Operation Zarb-e-Azb.

"The operation has achieved resounding success in eliminating terrorism," he added.

The spokesperson said, "The international community is also deeply appreciative of the sacrifices given by the people of Pakistan to make the world a safer place."

'No polio concern from Iran'

Refuting claims that Iran has shown concern or has enforced the condition of polio related restriction for Pakistani visitors, including Zayreen, Qazi said, "Iranian authorities administer polio drops to Pakistani children at their airports."

Relations with Russia on an upward trajectory

Further, on relations with Russia, the spokesperson said Pakistan has embarked upon a policy of constructive engagement with countries in the region and beyond.

Read: Russia ready to sell four Mi-35M combat helicopters to Pakistan: report

"Russia is an important country and we want to enhance relations with it in all fields of mutual interests."

"Our relations are on an upward trajectory over the last couple of years and these are independent of any influence from any other country," the spokesperson clarified.
COMMENTS (1)
Comments are moderated and generally will be posted if they are on-topic and not abusive.
For more information, please see our Comments FAQ