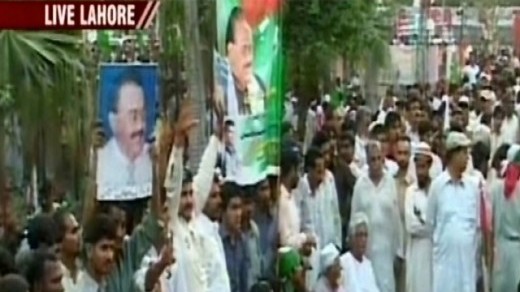 ---
RAWALPINDI: MQM Chief Altaf Hussain said that his party would set the masses free of the feudal system. Altaf Hussain stressed that MQM would rid the country of 62- year shackles of the politics of inheritance.

He spoke to the people of Punjab through a telephonic address to the party conventions in Lahore, Rawalpindi and Multan. He said that the time has come when politcal parties realise their responsibility to the marginalised especially the poor.

The MQM chief said that the nation is currently facing problems like poverty, shortage of drinking water and unemployment. Politicians only make promises but MQM is determined to fulfil them. And if people of Punjab support MQM then he will eliminate the old culture of brutality from the province.

He further said that the people of Punjab have to decide to bring about the change as MQM has entered into Punjab to fight for the rights of the people.

Earlier, party leaders had asked if a convention could be held near Minar-e-Pakistan, but were declined permission due to security concerns.

The MQM Coordination Committee said that about 50,000 people have joined MQM from the 9 districts of the Rawalpindi Zonal Office. Punjab has been divided into4 zones; Upper Punjab, Lower Punjab, Central Punjab and the Lahore Zone.

The MQM has begun registering people from southern Punjab for membership in the party. More than 200,000 have signed up so far.