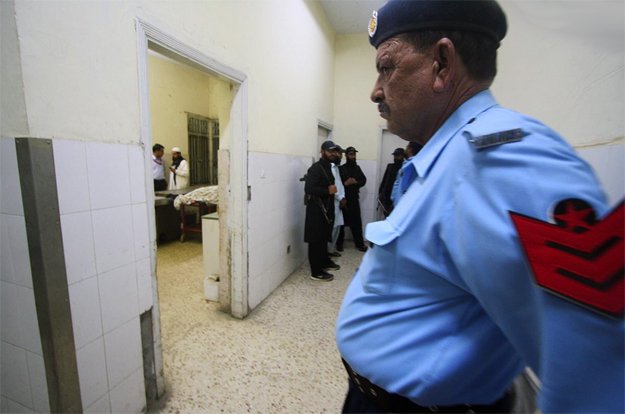 ---
ISLAMABAD: A local leader of the Ahl-e-Sunnat Wal Jamaat (ASWJ) was killed on Monday night within the jurisdiction of Lohi Bhair police station.

The police said that Maulana Idrees Kashmiri, a central leader of ASWJ and a prayer leader at the Jamia Masjid Al-Hussain, was heading towards the mosque on Shalimar road near Soan garden in a Toyota Corolla car (bearing registration numbers ZC-090) when two unknown men riding on a motorcycle shot him dead.

Police said that Maulana Kashmiri was shot four times. Two of the bullets hit him in the head and the two others were in his neck.

His body was shifted to Pakistan Institute of Medical Sciences (PIMS), where his postmortem was conducted. Soon after the incident local activists of ASWJ reached the spot. Some also gathered outside the hospital.

Police suspect that it was a targeted killing. Till the filing of the story police have yet to register first Information Report (FIR).

A local leader of ASWJ claimed that the deceased had received life threats and had submitted an application in the Lohi Bhair police station.

However, police denied receiving any request.

This was the second attack on a local leader of ASWJ this year. In February 2015 Maulana Mazhar Siddiqui, the spokesperson of the ASWJ's Rawalpindi chapter, was targeted in the capital's outskirts.
COMMENTS
Comments are moderated and generally will be posted if they are on-topic and not abusive.
For more information, please see our Comments FAQ