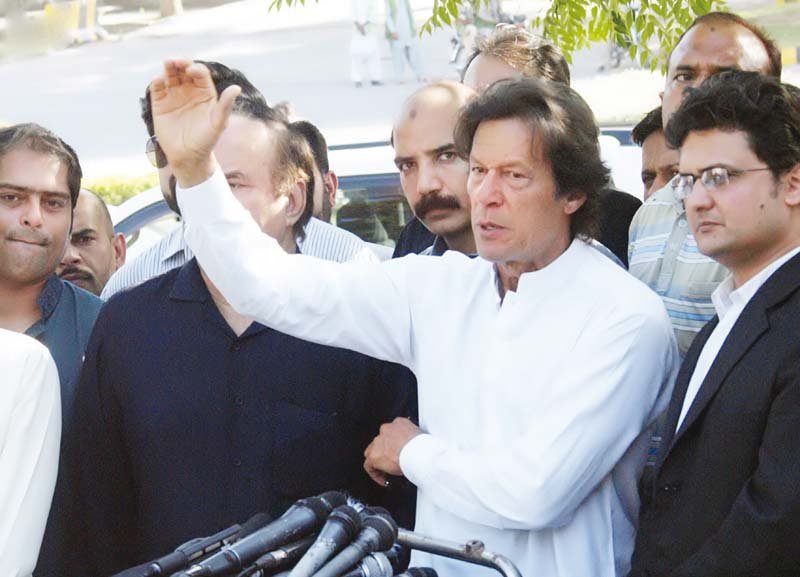 ---
ISLAMABAD:



PTI's task force chairman Ishaq Khan Khakwani said that Imran Khan will appear before the commission. He would answer all queries to explain the reason regarding the formation of inquiry commission itself. Khakwani said this while talking to The Express Tribune




In previous hearings PTI had offered that Imran Khan should appear before the inquiry commission for cross examination. This commission had been formed to probe alleged rigging in last general election. The chief justice Nasir-ul-Mulk had asked Abdul Hafeez Pirzada to file an application after which they would examine it.

During Monday's proceedings, former caretaker chief minister Najam Sathi and senior anchor Hamid Mir were cross-examined by attorneys of different parties. However surprisingly PTI's counsel did not interrogate him over the alleged rigging in 35 constituencies of Punjab (referred to as 35 punkchars)

Najam Sethi admitted before the commission that 7 to 10 days before the general elections, his power as caretaker CM had diminished. He elaborated that his cabinet's last meeting was held on April 25.

He also admitted that though he remained caretaker CM till June, 15 days post elections many provincial secretaries were reporting to Shahbaz Sharif.

Answering the query of rendering assistance to the ECP, Najam said that the additional chief secretary Rao Iftikhar was the focal person for this purpose.

He however stated that Rao Iftikhar did not inform him of ECP's request of 200 persons for the printing of ballot papers.

Najam also stated that he was appointed Chairman Pakistan Cricket Board (PCB) by Nawaz Sharif and he had taken charge by June 20, 2013.

Najam also stated that after raising objections he had persuaded chief election commissioner to replace Qamaz Zaman Chaudhry as chief secretary Punjab. Later on he appointed Javed Iqbal as chief secretary Punjab with the approval of Imran Khan.

Meanwhile, anchor Hamid Mir while recording his statement said that he had conducted three talk shows about election rigging. During the airing of the shows he had given proof of election rigging in four provinces and FATA.

In his talk show, he also admitted that he had shown the ballot papers, stamps and other election material. He had also highlighted the election irregularities in different constituencies. Mir admitted that in one of his TV programmes, he had shared details of a number of constituencies, where voter turnout was more than 100 percent.

He also submitted a ballot paper book to the commission for NA-223 (Tandu Adam), where PML-N candidate Rahela Magsi had lost the election.

Meanwhile, Pirzada while submitting a response over PPP's allegation regarding the rigging in K-P told the commission that PTI has no objection to opening of polling bags.

Published in The Express Tribune, June 2nd, 2015.