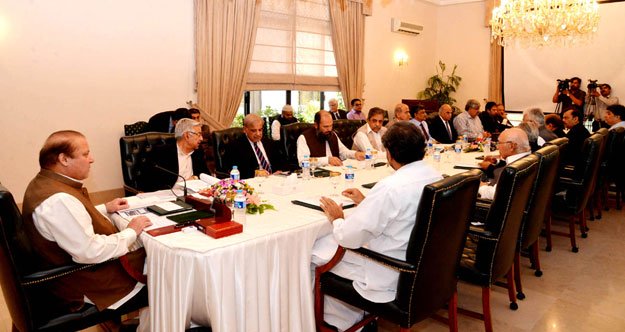 ---
A crucial National Economic Council (NEC) meeting chaired by Prime Minister Nawaz Sharif on Monday approved Rs1.514 trillion development budget for the financial year 2015-16.

It included Rs700 billion for the federal Public Sector Development Project (PSDP) and Rs814 billion for the provincial Annual Development Program (ADP).

The high-level huddle at the PM's Office also set a Gross Development Product (GDP) growth target of 5.5 per cent, 3.9 per cent target for agriculture and 6.1 per cent for the manufacturing sector while exports target was set at 25.5 billion dollars.

Read: Budget 2015-16: Government pegs growth target at 5.5%

"The outlook for fiscal year 2015-16 portends a significant recovery in growth momentum and trajectory amidst wide ranging challenges including persistent energy shortages, supply side constraints, inefficiencies of production, further reduction in fiscal deficit by mobilising additional revenues and demand for structural reforms besides security challenges," said the annual plan of the NEC.

Read: Budget 2015-16: APCC to consider Rs1.46 trillion development budget

It is noteworthy that after two years of modest growth, the government is looking to make the most of the coming fiscal year and also approved the 5.5 per cent growth rate target, hoping that an improved supply of energy and a relatively competitive exchange rate will aid the progress.

On May 27, the Annual Plan Coordination Committee approved major macroeconomic targets, some of them ambitious but necessary to create jobs in an economy that the government claims has stabilised after two years of tight economic and fiscal policies.
COMMENTS (2)
Comments are moderated and generally will be posted if they are on-topic and not abusive.
For more information, please see our Comments FAQ