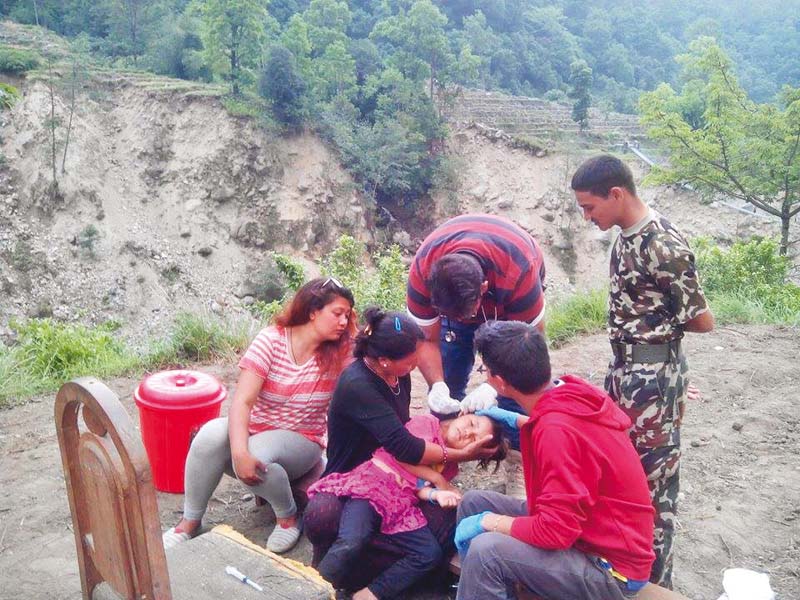 ---
KARACHI: Noman Quadri and Dr Talha Rehman weren't sent to Nepal by anyone. The accountant and the doctor simply packed up their bags and went off to Nepal's remotest villages, working to help the victims of the devastating earthquake last month.

Since they arrived in Nepal on May 11, they witnessed a 7.4 magnitude earthquake as well as three landslides. Quadri, talking to The Express Tribune through Skype, describes an encounter with Indian bikers, who took them to inaccessible villages up in the mountains, cut off from the rest of the world by landslides, and helped them set up medical camps.

According to the accountant, who is also a law student, a group of their friends came up with the idea. "The initial plan was to arrange relief for Nepal but then we decided that one or two of us had to go there and find people who could be trusted with the aid," he says, adding that they gathered at Teen Talwar to raise funds.




"A friend connected us to Child Reach Nepal," explains Rehman, who has established medical camps in Thar in the past. Staying at a hotel for $30 their first night in Nepal, the duo soon found an organisation with which they could go in the field. They then began teaming up with different organisations camping in different villages, helping with the relief efforts and providing medical care.

"We met a child who had been stuck in the rubble for over two hours, getting an infection in her nail," recounts Rehman. "There are a lot of patients here who have received no medical attention since the initial earthquake. Most of them have diarrhoea, fractures and chest infections."

In each village they go to, they tell the residents to spread the word to other nearby villages, enabling them to get healthcare to as many people as possible in places where there is none. "Our intention was to go to the remotest villages to help people and we have achieved that. In one of the villages, a little girl's finger was hanging from her hand so we brought her for treatment via one of the helicopters belonging to the Czech Red Cross," says Rehman.

The two men focused on Nepal's Sindhupalchok district. "We went from Kathmandu to Melamchi, set up a medical camp at Debachour and went to Bruah on motorcycles. Some areas of Bruah were inaccessible so we took a helicopter to reach them," narrates Quadri. "We managed to do all of this merely by establishing contacts with locals and relief organisations."

For him, the real work will start when they return to Pakistan and try to raise more funds. Then, if the Nepalese have the manpower for the relief efforts, they will simply transfer the funds. "Otherwise, if they need us, we will go back. The relief workers are doing a great job here but they need a lot of support and aid."

Published in The Express Tribune, May 23rd, 2015. 
COMMENTS (3)
Comments are moderated and generally will be posted if they are on-topic and not abusive.
For more information, please see our Comments FAQ