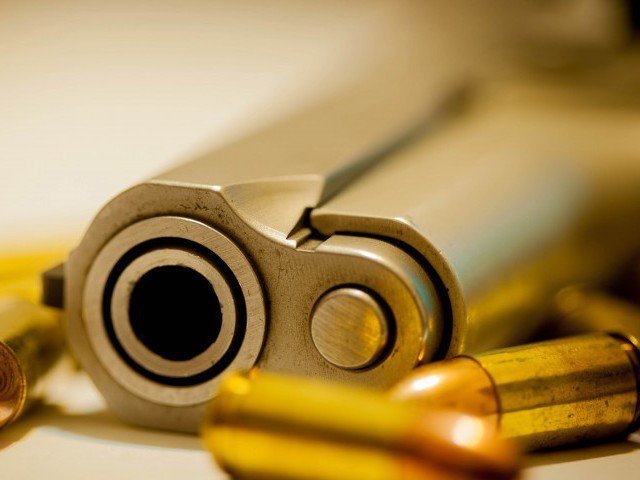 ---
KARACHI: A middle-aged man and his son were killed, while his wife and two other sons were wounded when they put up resistance to a robbery bid inside their house in the outskirts of the city late Friday night.

A gang of armed men entered the house of 50-year-old Abdul Rehman, son of Abdul Kareem, located at Jumma Goth within the limits of the Ibrahim Hyderi police on the night between Friday and Saturday.

The survivors said that Rehman's wife, 48-year-old Ayesha, opened the door of the house after the armed men knocked. She mistook them to be relatives. Two armed men clad in shalwar kameez entered the house while two others stayed outside the house on their motorcycles. The men who had entered the house held Ayesha and other family members hostage at gunpoint.

The family members tried to resist and started screaming when the robbers tried to lock them up in a room. Upon their resistance, the robbers resorted to indiscriminate fire at them.

As a result, Rehman, his wife and three sons, Fazal Kareem, 24, Shamim Alam, 22 and Shakoor, 18, were injured. Upon hearing the gunshots, a large number of neighbours gathered outside the house and tried to catch the culprits. However, the robbers managed to escape under the cover of aerial fire.

Police officials and ambulances from different welfare associations reached the site and shifted the victims to a nearby hospital. Rehman and his son, Fazal, succumbed to injuries during treatment while Ayesha, Shamim and Shakoor survived. Doctors said their conditions were out of danger.

The bodies of the father and son were later shifted to Jinnah Postgraduate Medical Centre for autopsies and then handed over to their relatives for burial.

Police officials said that the robbers did not loot anything. According to officials, the robbers spoke to each other in Seraiki language. Sketches were also being made with the help of the survivors to trace and arrest the culprits. A case has been registered while further investigations are underway.

'Robber' killed

An alleged robber was shot dead while another was injured over a monetary dispute in New Karachi within the jurisdiction of the Bilal Colony police. Police officials said that two young men, Danish, 30, and Kamran, 32, were wounded when they opened fire on each other over a monetary dispute.

Published in The Express Tribune, May 17th, 2015.
COMMENTS
Comments are moderated and generally will be posted if they are on-topic and not abusive.
For more information, please see our Comments FAQ