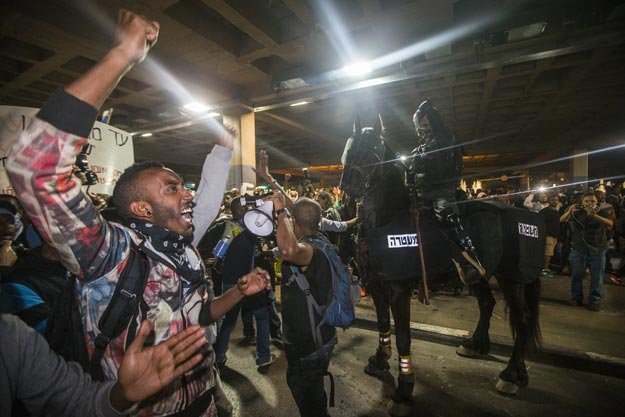 ---
JERUSALEM: Israeli Ethiopian Jews protesting against alleged police brutality and racism have staged heated demonstrations over the past week that turned violent as they clashed with security forces.

The integration of Ethiopian Jews into Israeli society has long been a struggle.

Israel has some 135,500 Jewish Israelis of Ethiopian descent, including more than 50,000 born inside the country.

For centuries, Jews in Ethiopia were largely cut off from other Jewish communities, and Israel's religious authorities only belatedly recognised them as members of the faith.


Israelis take part in a demonstration in Tel Aviv called by members of the Ethiopian community against alleged police brutality and institutionalised discrimination, on May 3, 2015. PHOTO: AFP

Israel then carried out two covert airlifts of Ethiopians to the Jewish state in 1984 and 1991, transporting thousands of people who had faced famine and persecution at home.

Despite government aid, Ethiopian Jews in Israel have always been disadvantaged.

They earn 40 percent less than the average Israeli, according to NGO the Israel Association for Ethiopian Jews (IAEJ).

More than a third (38.5 per cent) of Ethiopian Jewish families live below the poverty line -- a rate much higher than the 14.3 per cent of Israelis as a whole.

Most live in the poorest neighbourhoods of major cities.

The IAEJ also points towards a high rate of imprisonment.

At Ofek prison north of Tel Aviv -- a jail for minors -- some 30 per cent of inmates are from the Ethiopian community, despite comprising just 3 per cent of the population.

The community has been at the centre of storms over alleged institutionalised racism in recent years.


Israeli security forces arrest an Israeli man from the Ethiopian community in the coastal city of Tel Aviv, on May 3, 2015, during a protest against alleged police brutality and institutionalised discrimination. PHOTO: AFP

In 2013, Israel's equivalent of the Red Cross refused to accept blood from an Ethiopian Jewish lawmaker, sparking demands for a review of guidelines seen as deeply discriminatory.

The health ministry guidelines at the time barred donations not from the entire community, but from 80,000 Africa-born migrants, ostensibly over fears about the AIDS virus.

The previous year, an investigative news programme into the declining birth rate among Ethiopian Jews uncovered claims that would-be migrants were told they would be refused entry if they did not take contraceptive injections.

The health ministry subsequently warned that immigrants must not be given contraceptives without their proper consent.

In addition to the 1984 and 1991 airlifts, Israel has facilitated the immigration of several thousand members of the Falash Mura community, notably in 2010 when the cabinet approved a plan to allow some 8,000 into the country.

The Falash Mura, or "wanderers" in Ethiopia's Amharic language, are Ethiopians of Jewish descent. They are not considered Jewish under the faith's strict rules because their ancestors converted to Christianity, many under duress, in the 18th and 19th centuries.