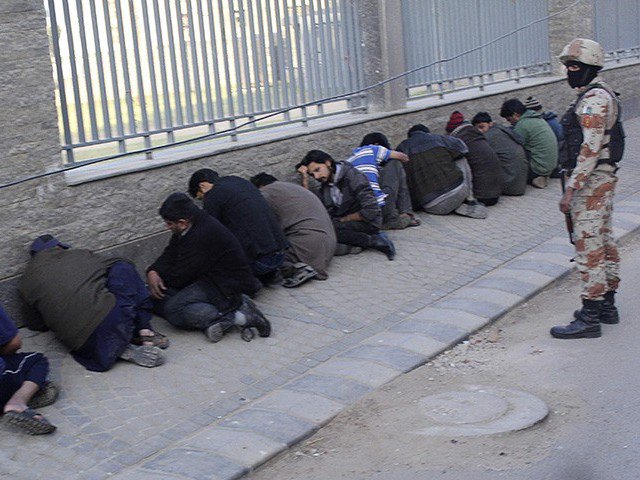 ---
KARACHI: Following the March 11 raid on Muttahida Qaumi Movement's (MQM) headquarters in Karachi,  an additional 32 arrested suspects will be detained for 90 days, while 26 suspects will be presented before an Anti-terrorism Court, Express News reported on Friday.

Additionally, police have requested the remand of 26 suspects for 14 days. Of the 26 suspects, four have been involved in previous cases, including Faisal Mota who was condemned to death by a court over his involvement in the murder of television journalist Wali Khan Babar. Mota has been handed over to police and will be on remand until March 25.

Sources said that Rangers were going to present MQM suspects arrested from Nine-Zero in court today, while 32 of the suspects would be detained for questioning and further investigation.







AN EXPRESS NEW SCREEN GRAB




Read: One dead, several injured as Rangers raid MQM headquarters

The raid, conducted by Rangers on Wednesday, caused Karachi to come to a standstill as several party workers were injured and one party worker, Waqas, was also killed amid firing.

Read: Explainer: Why the MQM raid was conducted today and what it means for Karachi's security

Several party workers and suspects were arrested, including MQM leader Amir Khan, Abdul Haseeb and Rehan Khan.

Read: PTI Karachi president supports Rangers raid, lashes out at MQM

Party workers stood outside Nine-Zero, chanting slogans against the Rangers' raid and party chief Altaf Hussain also made a telephonic address to members of his party.







AN EXPRESS NEW SCREEN GRAB




As many condemn the raid of the headquarters, demonstrators called for the registration of an FIR against Rangers for killing and injuring MQM supporters during the raid.



Ubaid K-2 taken ill



While presented in court, one of the arrested, Ubaid K2, was taken ill when he complained about severe abdominal pain.

He was taken to hospital where he was informed that the pain was in his kidneys and he was advised to drink up to 12 glasses of water to reduce the pain and continue drinking water regularly.
COMMENTS (5)
Comments are moderated and generally will be posted if they are on-topic and not abusive.
For more information, please see our Comments FAQ