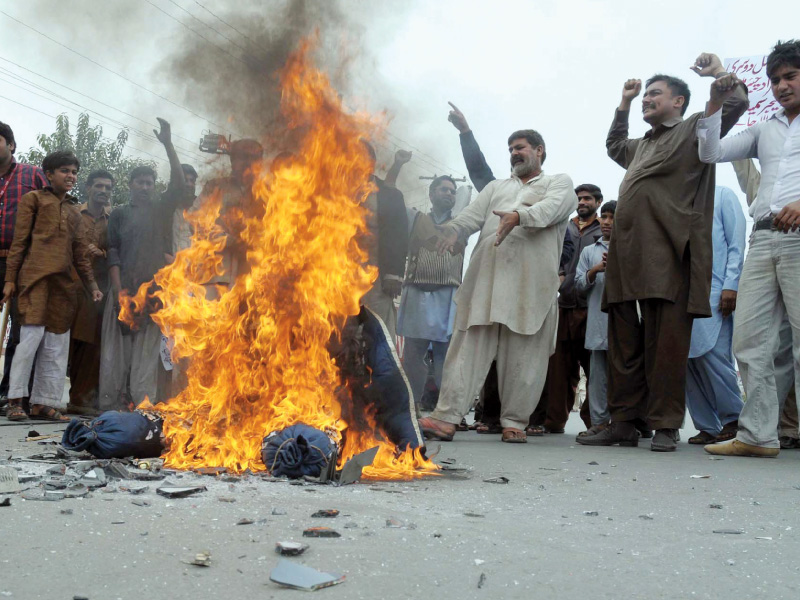 ---
MULTAN/ FAISALABAD/ PESHAWAR/ ISLAMABAD/ LAHORE/ KARACHI:



Incensed by Pakistan's record-smashing defeat against the West Indies in their second World Cup match, fans back home directed their anger at the national squad, some even organising mock funerals for their team and others smashing their television sets on the streets.




Fans in Punjab, in particular, were disappointed by the poor play against a relatively weak side in a match which cricket pundits, at least those in Pakistan, predicted would be a walkover for the green shirts. Fans had pinned their hopes on this match after the team's loss to arch-rivals India in their opening match.

Several noisy protests were staged in different rural and urban areas of South Punjab, including in Khanewal, Rajanpur, Vehari, Bahawalnagar, Bhakkar, Layyah, Sahiwal and Multan. Demonstrations were held by angry young fans in several neighbourhoods of Multan.

They organised a mock funeral replete with a casket and several cricket bats placed over it. They burnt effigies of Pakistani cricketers and shouted slogans against them. "This time, we were really hoping for Pakistan to win," Shama Bibi, one of those taking part, said. "We don't want to watch this anymore."

Another demonstrator who gave her name only as Rafia blamed the Pakistan Cricket Board (PCB) for what she said were poor selections and politicisation of the game. In some cases, especially in Pakhtun-dominated neighbourhoods, angry fans took their television sets out in public squares and broke them with bricks, stones – and some even fired gunshots to smash their TV screens. In all, 21 television sets were smashed in Multan.

Some fans even tried to attack large screens installed in different areas of the city, including Samad Plaza, Dera Adda and Hussain Agahi, to watch the match. However, organisers managed to pacify them. Incidents of TV screen-smashing were also reported from other towns of southern Punjab, especially in Khanewal and Sahiwal where mock funerals were also staged for the national team.

Frustrated fans also vented their anger in different neighbourhoods of the industrial city of Faislabad, including in Abdullah Pura, Saleemi Chowk, Ghulam Muhammad Abad, Gulberg, Millat Chowk and Gulfishan Colony Chowk. They burnt old tyres and chanted slogans against the cricketers.

"The team has broken my heart," Asad Ali, a young fan, said while speaking to The Express Tribune. "After the dismal performance of our team, I've decided not to watch other matches."

Another protester, Mueen Hamid, said he has smashed his TV set to pieces. "The West Indies were not a strong side compared to Pakistan but our team played so badly and squandered away the match," he added.

In some neighbourhoods, protesters brought out effigies of national cricketers, beat them with sticks before setting them on fire. Heavy deployment of police served as deterrence and all the protests dispersed peacefully.

In Gujranwala, a lawyer has decided to approach the court against the poor performance of the national team. "I will request the court order registration of a case against the national team for their depressing play against West Indies," Advocate Babar Hussain Chaudhry told Daily Express at the Sessions Courts Complex. "The team's humiliation at Christchurch has damaged the country's image internationally."

'Our cricket is like our politics'

Cricket fans elsewhere in the country also voiced disappointment over the pitiful performance of the national team. "The funeral of Pakistan Cricket will take place on Sunday. Prayers will be led by Shahryar Khan while the Dua will be recited by Najam Sethi," Saleem Asghar Mian, a former manager of the Pakistan cricket team, said while referring to the incumbent PCB chairman and his predecessor.

Waqar, a shopper in Aabpara Market, said, "We were a perfect team. We couldn't bat, we couldn't bowl, we couldn't field. For that matter, we don't even listen to senior players or staff. What is a better example of pathetic perfection?"

Then there were the angry fans. Ali Khan, another shopkeeper, said, "I can't believe I stayed up all night for this garbage". Ali's boss Sajjad Khan then said, "Our cricket is like our politics – broken. Since 1992, politics in cricket is destroying the game. Our team is aging, and youth is lacking. Look at our stars, they are the same age as the coaches."

Fans were equally disappointed in Karachi where friends and families had gathered to watch the match together. "I am really disappointed by the performance of my team, they were my heroes," Hafiza Fatima told The Express Tribune.  For banker Salman Iftikhar Baig, the result was a big shock but he is hopeful that Pakistan cricket would regain its lost glory. "It all seems pre-planned. First international cricket was banned in Pakistan and then our players were rejected from the IPL. This is why we are lacking new talent," he said.

Hopes dashed to ground

Like rest of the country, cricket fans in Peshawar, too, were angered by the team's poor performance. They blamed the PCB and selectors for the fiasco.

"Everyone – from the management to selectors and players – is to blame for the disappointing play," Nawab Sher, a student of Peshawar University, told The Express Tribune. "I had high expectations that our team would repeat history and bring home the World Cup – but they could not win two matches in the qualifying round."

Chasing the West Indies' first innings total of 310 runs, Pakistan gave up its first four wickets for just one run -- the worst start in One-Day International history – before eventually losing by 150 runs. Pakistan now finds itself at the bottom of Pool B and will resume its campaign against Zimbabwe in Brisbane on March 1.


Published in The Express Tribune, February 22nd, 2015.