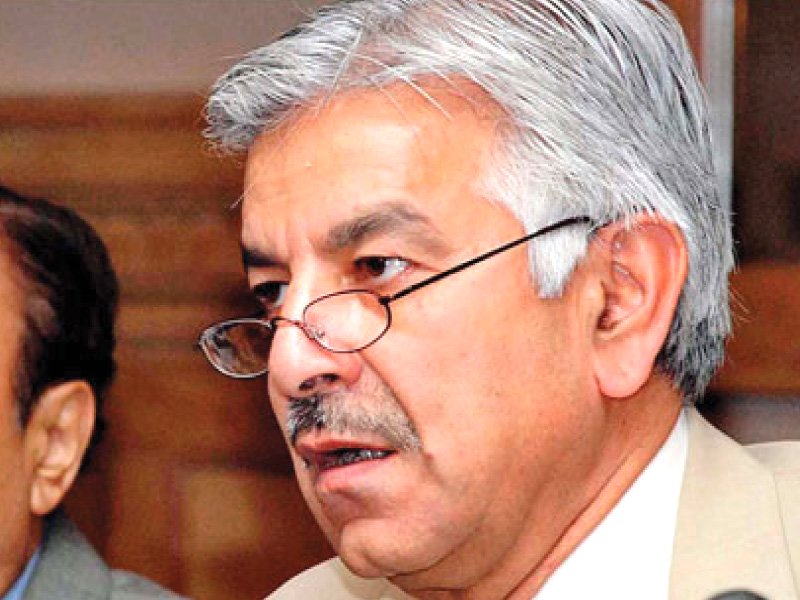 ---
ISLAMABAD: Defence Minister Khawaja Asif took notice on Wednesday of reports that India's DIG Coast Guard admitted he ordered a Pakistani boat to be blown up, saying that the incident "tore off India's veil of being a peaceful country of the region."

"…Pakistan's desire for peace and coexistence in the region must not be seen as our weakness. International community must also take notice of the incident which is tearing off India's veil of being a peaceful country of the region,"a statement released by the Defence Ministry stated.

Earlier in the day, Indian media quoted DIG Coast Guard BK Loshali's saying, "We blew off that Pakistani boat. We have blown them off….I was at Gandhinagar and I told at night, blow the boat off".

Asif took notice of the news report, claiming that it reveals the false claims of Indian Defence Minister Monohar Parrikar regarding sad incident of blowing up a Pakistani boat on the night of December 31, 2014.

"The revelation ... proves that the Indian Defence Ministry and defence minister of India were putting up a false story," the statement added. "Loshali has contradicted his government's statement by saying that Pakistani boat was attacked by Indian Coast Guard."

New Delhi had claimed the crew of a Pakistani fishing boat blew up and sank their vessel after trying to evade capture at the hands of the Indian navy in a high-speed chase at sea last year.

Asif argued that India has violated international rules and disregarded the humanitarian considerations, adding apart from killing four innocent people on-board, India has been involved in several killings of Pakistanis, including the Samjhota Express incident.

India under pressure to explain who blew up boat

The Indian government is under pressure to explain what caused a Pakistani fishing boat to explode, killing four people on board in mysterious circumstances, after a senior Indian coast guard official said it was deliberately targeted.

Loshali's comments contradict the Indian government's version that the boat laden with explosives was intercepted by the coast guard because it was planning an unspecified illegal transaction and the people on board set it on fire, causing it to explode.

The development comes as India and Pakistan's foreign secretaries are set to resume talks next month for the first time since May.

The two nuclear-armed nations engaged in their worst cross-border violence in a decade in October, capping a year when reconciliation had looked more likely and then faded.

Defense Minister Manohar Parrikar said the government stood by its record of events and would consider taking disciplinary action against Loshali.

"We stand by what we said, the issue is over," Parrikar said.

"We will take action against the person, if required, if he has made the statement."

At the time of the incident, the Indian coast guard said it chased the Pakistani boat off India's western coast for almost an hour and it fired warning shots before it stopped.

The coast guard then said the crew hid below deck and set the boat on fire, which caused an explosion.

Riffat Masood, a spokesperson for Pakistan's Foreign Ministry, said it was investigating the incident.
COMMENTS (30)
Comments are moderated and generally will be posted if they are on-topic and not abusive.
For more information, please see our Comments FAQ