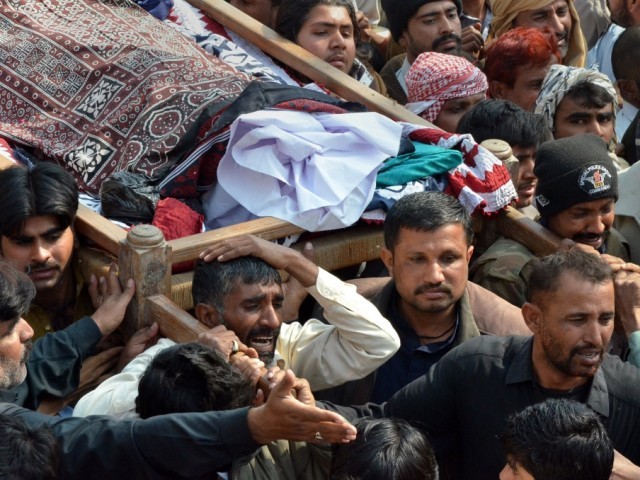 ---
KARACHI: Families of the victims who died in the deadly blast in an imambargah in Shikarpur demanded an army operation in the city after their arrival in Karachi on Wednesday.

Led by members of the Shuhda Committee, the families started their march from Shikarpur on Sunday afternoon.

Women dressed in black sat with solemn faces and shouted that they wanted the criminals to be punished.

"We will keep sitting here till we get justice. Madrassa's run by terrorists in our area should be searched and operations should be carried out," said Shamshed whilst holding pictures of her two deceased nephews and a cousin.




Meanwhile, 15 members of the Shuhda Committee are meeting a delegation from the Pakistan Peoples Party at the CM House today and presenting their demands.

Approximatelt 2,000 protestors, made their way to Karachi along with the deputy secretary of the Majlis-e-Wahday-e-Muslimeen (MWM), Allama Amin Shaheedi, chairperson of the Shuhda Committee Allama Maqsood Domki and others.


RELATED: Shikarpur imambargah blast: Families of victims to march to Karachi


Protestors vowed not to leave till the Sindh Chief Minister Qaim Ali Shah announced an operation and arrest of the criminals. Theyhave also pleaded for a ban on religious outfits and an operation against Ahl-e-Sunnat Wal Jamaat (ASWJ).

Food camps were set up at Numaish Chowrangi and facilities to make phone calls had also been set up.

MWM leader Ameen Shaheedi said that no writ of state seemed to be present in either Peshawar or any other city.


RELATED: Pakistan mourns 61 killed in Shikarpur imambargah bombing 


The blast hit the imambargah in the Shikarpur district as hundreds of worshipers attended Friday prayers. Police confirmed the explosion to be a suicide attack.


COMMENTS (1)
Comments are moderated and generally will be posted if they are on-topic and not abusive.
For more information, please see our Comments FAQ