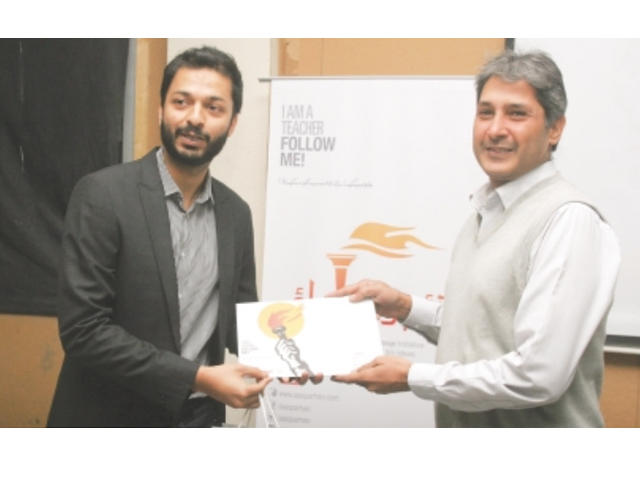 ---
KARACHI: With the aim of promoting teaching as a profession and teachers as role models for students, 'Aao Parhao' knocked on the doors of the creative minds of Karachi School of Art (KSA) students.

Painting, sketching, drawing is what usually transpires in the art studio but the students of KSA turned it into an auditorium so more than 100 of them could gather to pay tribute to their teachers at the 'Aao Parhao' campus drive on Friday.

Over ten volunteers from KSA stepped up to pay glowing tributes to their teachers. The event was a part of 'Aao Parhao', an initiative of the Express Media Group for the betterment of the education system and encouragement of the profession of teaching.

"Teachers do a lot for us but we never realise it; it is now time for us to pay them back by appreciating them," KSA brand ambassador Muhammad Raffay Imtiaz told The Express Tribune.

"Our teachers are not only our instructors but our character builders also; by complimenting them, we are just doing a bit from our side."

Appreciating the initiative, painting teacher Ghalib Baqar told The Express Tribune it was important for students to understand the importance of teachers and the profession at large. "Everybody wants their child to be a doctor or engineer but not a teacher, this step of Express will not let the profession of teaching die," he said with hope.

"Education is key and transferring that education is equally important," said Javed Naqvi, another teacher at the campus who shared some of his experiences with the students present. "You should appreciate, celebrate and motivate your teachers and thank them for filling the education gap for you."

Talking about future plans, 'Aao Parhao' campaign manager Abid Ali Shahid announced that the drive will soon go beyond the provincial borders and will promote and celebrate the teaching fraternity in Punjab as well as other areas.

"There is a teacher in everybody's life, someone who once inspired you. Keep teaching as the first option in your career, not the last," said Shahid. "The campaign aims to change the mind-sets of students towards their teachers, and that is what we will continue to work on," explained the brand ambassador. "I want students to recognise the power of a teacher in our society and in the future, look at it as a better career option," added Shahid.

The ceremony ended with a group photo of 'Aao Parhao' team with the teachers.