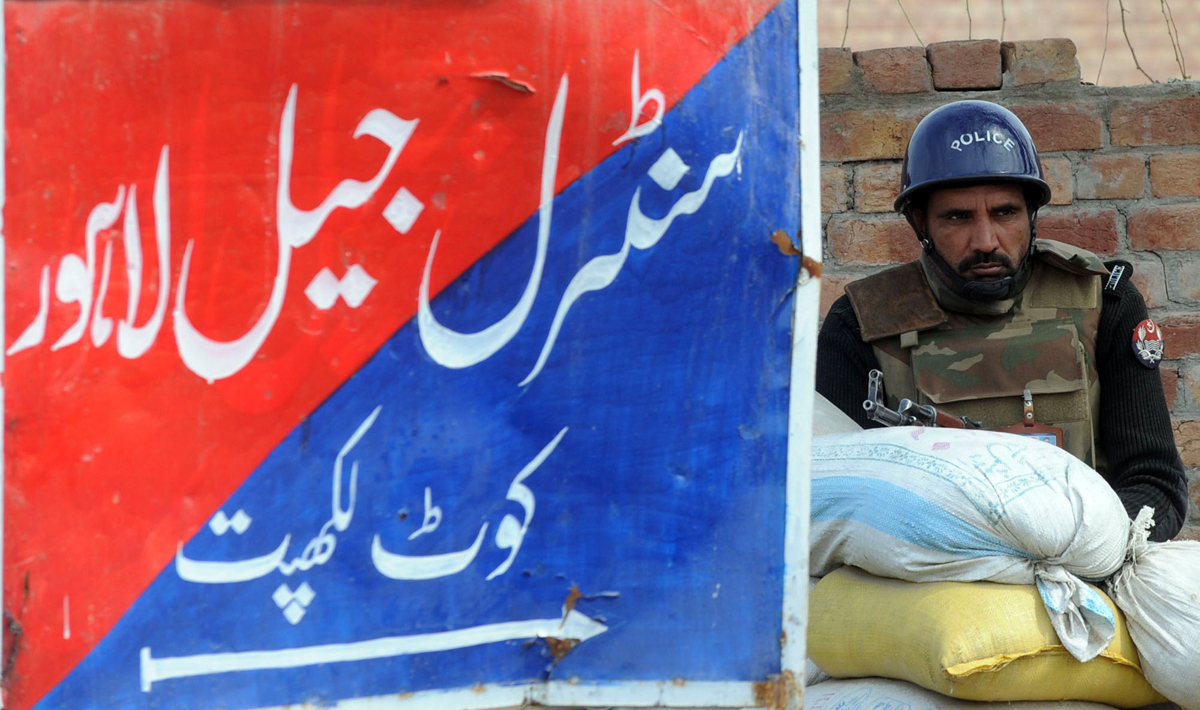 ---
PESHAWAR/ ISLAMABAD/ LAHORE:



Intelligence agencies on Thursday carried out a raid in Kot Lakhpat area of the Punjab capital and arrested three suspected terrorists – including two women – who were allegedly planning to attack the Central Jail, Kot Lakhpat.




According to officials, the intelligence agencies traced a suspicious call on the basis of which they raided a house at a residential locality, Farid Colony, near the central jail.

During the raid, the intelligence agencies personnel arrested two women and a man and also found in upper portion of the house a rocket launcher, uniform of the armed forces, bow and arrows, latest weapons, maps of the central jail as well as other documents.

The suspects had planned to attack the central jail, had completed its reconnaissance and were waiting for their companions. "Women were to be used in the jail attack," one of the sources said, adding that the suspects were moved to an unknown place for interrogation.




Security forces have carried out further raids on indication of the alleged terrorists.

There are 63 convicts, who have been awarded death sentence in cases of terrorism, confined in the central jail.

These death-row prisoners include five convicts – Ehsan Azeem, Asif Idrees, Amir Yousaf, Kamran Aslam and Umar Nadeem – who were awarded capital punishment by Field General Court Martial and the stay order against their executions has been vacated a day earlier by Lahore High Court  Rawalpindi bench.

According to sources, after lifting of a six-year-long moratorium on execution of terror convicts, the Interior Ministry had warned law enforcement agencies that extremists might target prisons to liberate their accomplices.

After this alert, security of all the jails across the country was tightened. At Lahore's Central Jail two companies of army, two companies of rangers and Punjab police were deployed both in and outside the jail.




Security pickets are also placed across the jail in a radius of two kilometres and even the residents are allowed to move after proper checking and confirmation of identity.

Raids across Pakistan

Meanwhile, police and security forces on Thursday continued their search operation against illegal Afghan nationals and terror suspects and rounded up hundreds of people including suspected terrorists.

Islamabad police also continued its raids on the third consecutive day and arrested more than 400 suspects, mostly Afghan nationals.  According to Islamabad Police spokesperson Muhammad Naeem, the arrested people are being interrogated while some of them have been released.

In Gujranwala, police arrested eight Afghan nationals and registered a case against them. In Narewal, police rounded up eleven illegally staying Afghan nationals. In Jarwala, police arrested ten Afghan citizens.

Police took three Afghans into custody from Mitro and five from Abbottabad. Security forces also took into custody eight suspects from Risalpur during a search operation.

Police also arrested members of banned organizations from Samandri and six activists of such outfits from various parts of South Punjab.

Published in The Express Tribune, December 26th, 2014.
COMMENTS (5)
Comments are moderated and generally will be posted if they are on-topic and not abusive.
For more information, please see our Comments FAQ