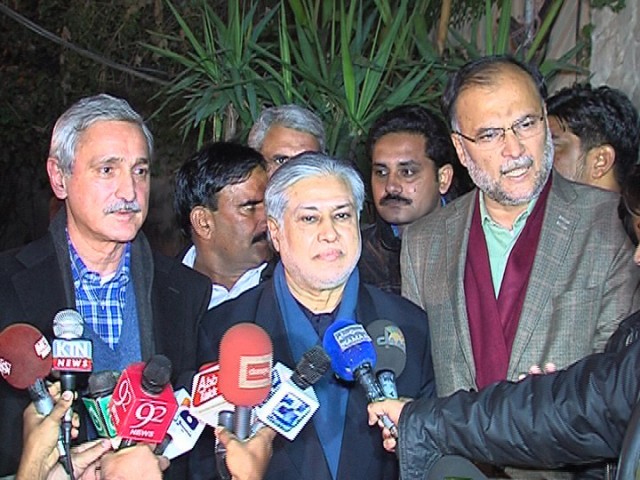 ---
ISLAMABAD: The negotiation teams of both, government and Pakistan Tehreek-e-Insaf (PTI) on Tuesday postponed for a second time their scheduled talks due to prior engagements.

Both teams had decided in their meeting last week that they would resume talks on Monday but due to busy schedule of the PTI team in Peshawar. Subsequent engagements of the two members of the government team, federal ministers Ishaq Dar and Ahsan Iqbal, both sides decided to postpone their scheduled meeting till Tuesday by mutual consent.

But Dar, who was busy attending a the high level meeting of military and civil leadership presided over by Prime Minister Nawaz Sharif in PM House on Tuesday, had to postpone the meeting.

In their previous meetings, the government and PTI have decided on forming a Judicial Commission (JC) through a presidential ordinance to investigate the 2013 general elections and determine whether they were rigged or not. However, both sides had yet to agree on Terms of Reference for the JC .

Both sides have decided to review their ToRs to reach a consensus on the definition of rigging.

According to details, PTI is willing to set work plan for JC by presenting its derived definitions of rigging in 2013 general elections.

However, government said that JC should do work to probe either there actually was systematic rigging which might have happened with the support of Election Commission of Pakistan (ECP), or care taker governments, or any other institution to help Pakistan Muslim League-Nawaz (PML-N) or any other party succeed in the elections by unfair means.