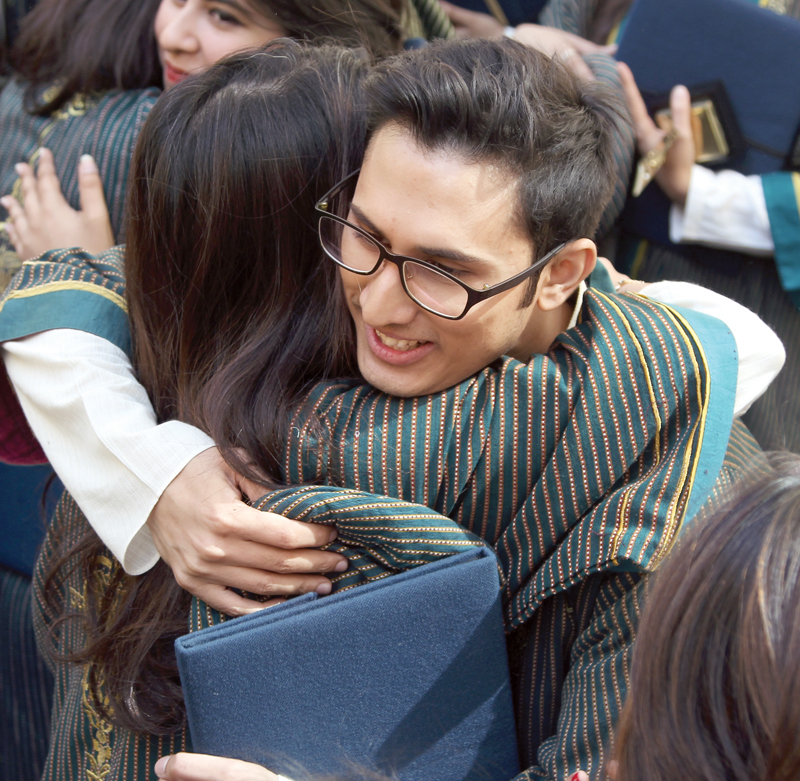 ---
KARACHI: They spent the last couple of years studying together under the same roof. They created works of art, research papers and final year projects which reflected how much they had grown as individuals. They formed bonds of friendship that will last them a life time - which is why many of 124 students graduating from the Indus Valley School of Art and Architecture, felt their cups were full and as they walked up on stage to accept their degree, their eyes shining with joy.

At the school's 21st convocation, the graduating students were dressed in green and golden robes with hats made from some susi fabric. With their heads held high, they walked in the academic procession as if to declare that only the sure-footed ought to tread here.




The graduating class and their proud parents, made it to the campus in time for graduation despite reports of protests and blockades since early morning after the Pakistan Tehreek-e-Insaf announced a city-wide shutdown for Friday.

Urdu poet Zehra Nigah was the keynote speaker for the graduation at the Nusserwanjee Building, a century-old Kharadar landmark which was relocated brick by brick to Clifton nearly 13 years ago.

Of the 124 students who graduated on Friday, 32 were from communication design department, 29 from the textile design department, 17 in architecture, 14 in fine arts and 11 had done interior design. Another 21 students completed their post-graduate diploma in digital film and video, apparel design, photography and fine art. "The institution has given each of us a direction," said Mahrukh Murtaza Khan, a communication design graduate who was also the valedictorian with a cumulative grade point average of 3.55. "Now it is our responsibility to build on that instead of finding solace in stagnation."

In her message to the students, Nigah said that now the students were capable of looking after and evaluating themselves and their progress. "Whatever you do in your life, remember, never be afraid," she said.

The recipient of the 2014 founder's award went to a graduate who reflected the school's philosophy in her work - Zehra Nawab.

Special mentions

Nawab, a graduate of the communication design department, felt that there was an overwhelming need to restructure Pakistani history textbooks as a tool of communication for young minds. This is why her thesis, Revisioning History, a walk-in exhibition allowed viewers to interact with a prototype designed with content based on the national curriculum guidelines.

"For students, the history textbook is an important insight and connection to their past," said Nawab. "Rearrangement of how chapters are divided in the textbooks, along with the proposed parallel timeline concept and design intervention, can help instill aspects of critical thinking and engagement with the content."

Sana Jamal, an architecture student who graduated with a distinction, tried to recapture the spirit of Moen Jo Daro by setting up a model archaeology campus as a walk-in museum. She believes that architecture evolves from the lessons of what humans have built. "It preserves the past," she said, adding that it also captures the present and provides the guiding light for the future.

Published in The Express Tribune, December 13th, 2014.

 
COMMENTS (3)
Comments are moderated and generally will be posted if they are on-topic and not abusive.
For more information, please see our Comments FAQ