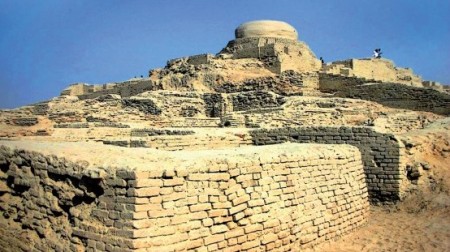 ---
ISLAMABAD: The National Highway Authority (NHA) is losing Rs50 million daily because of an order by the ministry of culture to halt the construction of a road allegedly damaging the Moenjodaro ruins.

This was stated by Chairman NHA Chaudary Altaf on Tuesday. The chairman added: "The construction of the 28-km fourlane Expressway, with four bypasses, meant to link Larkana city with the Moenjodaro airport has been halted for quite some time." According to the culture ministry, however, the NHA only recently halted work on the project.

The ministry claims to have made efforts to highlight the importance of protecting Moenjodaro from threatening construction projects since November last year. UNESCO has ranked Moenjodaro as one of the most important heritage sites in the world.

The ancient city was built entirely of unbaked brick more than 4,000 years ago. According to an official in the Sindh government, a letter was sent to the NHA warning that permission may be given to the archeology department to file a civil suit for obtaining a stay order from the courts. Director Southern Circle of Archaeology Hyderabad and DG Department of Archaeology and Museums Islamabad were directed to take legal action if work on the project was not halted.

According to the Department of Archeology, the site has been damaged by the construction of the highway. The water channel built for draining rain water and salt water as a safety measure was being destroyed.

This was a significant protection measure -- it had been implemented following instructions from international archeological experts. Officials are concerned about damages to the safety embankment, illegal digging and the danger of plundering.

"Yes, it is of great concern, does NHA realise the importance of this great heritage as it is a criminal activity to build a road through the remains of this national treasure," an official from the archeology department said. "It is our right to protect it as Pakistan has signed UNESCO's convention [about protecting heritage sites]," he added.

Secretary Culture Moinul Islam told The Express Tribune that a meeting was held on March 18 to discuss the issue. "We are working towards the protection of Moenjadaro," he said, "I personally called NHA chairman and requested him to halt the project till they get clearance from the Department of Archeology." "We are double-checking whether the site is being affected.

A mutual decision will be taken soon, prioritising the preservation of the heritage site," he said. A solution might include relining of the road, he added. The NHA has requested the archeology department for a no-objection certificate so that work can continue, Altaf said. This is expected to materialise in a few days, he added. The road is 200 feet away from the embankment and will not damage the ruins, he claimed.
COMMENTS
Comments are moderated and generally will be posted if they are on-topic and not abusive.
For more information, please see our Comments FAQ