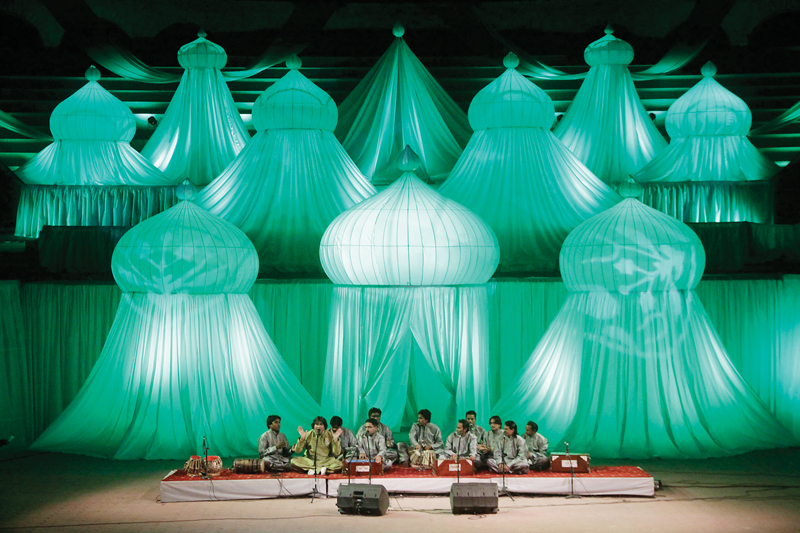 ---
LAHORE: The 13th Mystic Sufi Music Festival started at Alhamra Arts Council at Gaddafi Stadium on Saturday night. Rafi Peer Theatre Workshop and the Royal Norwegian Embassy have jointly organised the event. The event got underway despite some initial problems in receiving a no-objection certificate (NCO) from the government.

Talking to The Express Tribune, Sadaan Peerzada said the government had issued the certificate at around 4pm, the day the festival was scheduled to open (December 6, 2014). "I think they finally realised that there was no point in denying us the NOC because we were going to go ahead with it."

The musicians lined up for the night presented an interesting mix of sufi music. The Tehleeleh (whirling dervishes) from Syria were a major hit with the audience.

Local artistes Goonga Sain, Mithu Sain and Wahhab Shah also performed at the event.

It was encouraging to see the banners and decorations, after the Youth Performing Arts Festival held there earlier. "This is more accessible," said Khawaja Salman Shakir, who had come with his wife. He said RPT's Raiwind facility was too far form the city centre. The festival has more local artistes lined up for the second day, including Pappu Sain and Sain Zahoor. Bazm-i-Liqa from Hunza and Tehleeleh from Syria will also give repeat performances.

Published in The Express Tribune, December 8th, 2014.