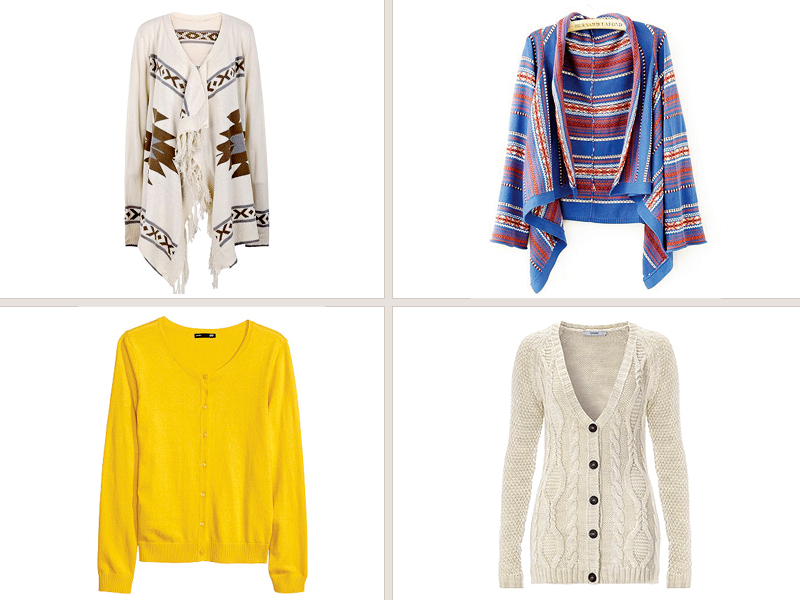 ---
Believe it or not, cardigans are just one of those things every woman must have in her closet. Regardless of whether your live in the chilly hillsides of Islamabad or the tropical, sea breeze of Karachi, a funky cardigan will be your go-to gear for any social gathering during winter.  They come in an array of shapes, sizes and styles to suit your personality and the type of look you are aiming for. However, some cardigans tend to compliment certain body types more than others and trying to pull off one that doesn't fit you right can be a real fashion downer. To find out which style will suit you best, follow our short guide to the ideal cardigan styles for your body type. Picking a winter wardrobe was never this easy!




The simple, waist-length cardi:

Classic and traditional, the waist-length cardigan will go great with skinny jeans and matching tunics. Unfortunately, many people confuse these cardigans with shrugs which end just below the bust or halfway down the stomach which can make one look wider.  The right way to wear this length is to make sure the cardigan comes down at least till your bellybutton.

How to wear: Pair your waist-length cardi with fitted or flared empire-waist tops and skinny jeans. A pair of matching boots will look great too!

Get it from: The Aster for Rs2,999




The oversized, Aztec cardi:

This long cardigan drapes over your thighs and often comes in prints inspired by the Aztec community that lived in America during the 16th century. Owing to the huge size, this style of cardigan can be rather difficult to pull off. For instance, pairing them with a loose top or bottom, especially boyfriend jeans or palazzo pants, will add unwanted bulk to your physique and simply look sloppy.

How to wear: Be sure to compliment your big cardigan with fitted clothes. A pair of leggings or tights would look best and keep you from looking big.

Get it from: Zeen for Rs2,796


SOURCE: BABBLE.COM

The wrap cardi:

Like a shorter version of the oversized cardigan, wraps tend to cover you around but are much more fitted and casual in appearance. The wrap cardigan looks great with simple, straight-fitting bottoms and medium-length inners.

How to wear: Wraps go perfectly with dark-coloured pants which slim down your silhouette. The draping lapels create a nice length from top to bottom and make the wearer appear leaner too!

Get it from: Firdous for Rs3,150

The boyfriend cardi:




Boyfriend cardigans our a man's sweater with a girly touch. They are generally tight around the waist and shoulders but roomy in the middle. Every young girl must have at least one or two, neutral-coloured boyfriend cardigans in her closet! However, make sure you don't wear them over flowy kurtas or long skirts as that can make your hips look wider. A boyfriend cardigan looks cutest when paired with skinny jeans and sneakers.

How to wear: These cardigans can be worn with virtually any top so long as it isn't too long and dressy. Boyfriend cardigans are strictly casual so pairing them with formal pieces is never a good idea. As long as your shirt is short and bottoms are fitted and slim, you are good to go!

Get it from: Mango for Rs2,990

Published in The Express Tribune, Ms T, December 7th, 2014.